4 Reasons You Should Detox at an Addiction Treatment Facility in North Carolina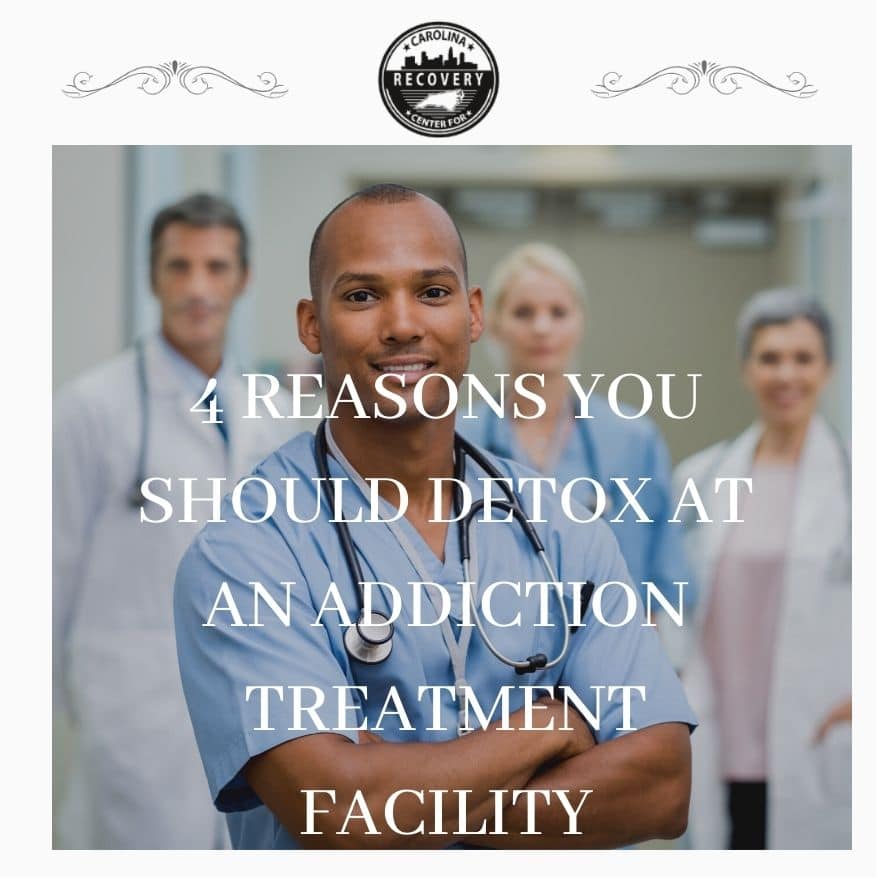 When you make the decision to get sober, you have two options. You can try to get sober on your own, or you can seek help from a licensed addiction treatment center. While you may be hesitant to admit to having a problem and reluctant to ask for help, you should remember all that getting sober entails. First and foremost, you have to detox from drugs and alcohol and go through withdrawal. This is the riskiest and most vulnerable stage of the recovery process, and detoxing alone is never a good idea.
Here are 4 reasons why you should detox at an addiction treatment facility in North Carolina.
Physical Symptoms of Withdrawal Can be Dangerous
Detox is the body's natural way of clearing out toxins and other substances that aren't serving the body in a healthy way. When it comes to drug and alcohol detox, people experience withdrawal symptoms that range from mild to severe. Common symptoms of withdrawal include:
Body aches
Sweating
Upset stomach
Abdominal cramps
Difficulty sleeping
Mood swings
While these symptoms can usually be managed at home, others cannot. Some substances, such as alcohol and benzodiazepine medications, can cause seizures if you stop taking them cold turkey. Other substances, such as heroin, can cause loss of appetite, sweating, nausea, vomiting, and diarrhea, which can amount to dehydration if left untreated. Alcohol is perhaps the most dangerous substance to detox from because alcohol withdrawal can cause delirium tremens, a life-threatening condition characterized by tremors, hallucinations, and delusions.
If you detox at home, you are susceptible to these adverse consequences and more. However, when you choose to detox at an addiction treatment center in North Carolina, you choose the safer, easier way. Treatment programs use prescription medications to alleviate symptoms of withdrawal and prevent life-threatening complications.
The comfort of detoxing in your own home is simply not worth the risk.
You're Likely to Relapse if You Don't Get Help
Physical symptoms of withdrawal can be painful and even life-threatening, but the psychological aspect of withdrawal can feel torturous as well. Shortly after your body goes into withdrawal, you'll begin having drug cravings that can get intense. These cravings can even be stronger than your desire to get clean. During the detox period, in particular, you are at extremely high risk for relapse.
If you choose to detox at home or by yourself, you should know that the odds are stacked against you. Addiction is a powerful disease, and cravings can be overpowering. If you choose to detox at an addiction treatment program in North Carolina, however, you'll have medical and clinical support to prevent relapse.
Addiction Treatment Centers in North Carolina Use a Holistic Approach
When you detox at home, you can only do so much to relieve your symptoms of withdrawal. You can try to eat a nutritious diet, drink plenty of water, take over-the-counter medications for pain or upset stomach, and try to stay busy to keep your thoughts off of drugs and alcohol. Still, you may feel as though your strategy is incomplete. While these strategies are somewhat effective for withdrawal, getting sober is a lot easier when you do so with the help of a treatment facility that treats your mind, body, and spirit with evidence-based therapies.
Carolina Center for Recovery uses a holistic approach that treats the whole person. We combine detox medications with emotional, mental, and physical support. During detox, you may have access to a variety of therapies, activities, and support groups that can improve your experience and help you maintain your motivation to stay sober.
A Counselor Can Refer You To The Right Treatment Program For You
Recovery doesn't end with detox. Detox is only the beginning. If you detox without professional help, it is your responsibility to seek further treatment to address the causes of your addiction and learn how to live sober. But, if you detox at an addiction treatment program in North Carolina, staff won't sign you out for discharge until you are enrolled in a substance abuse treatment program.
Once you are mentally and physically stable and medically cleared to leave detox, a substance abuse counselor will meet with you to evaluate your personal needs. He or she will learn about your addiction, assess your mental health, and ask you about your recovery goals. The counselor will use this information to make personalized recommendations for your care. There's no better way to find the right treatment program than to begin your recovery with detox at a rehab facility.
Start Your Recovery Journey at our North Carolina Addiction Treatment Center Today
Here at Carolina Center for Recovery, our team is composed of doctors, clinicians, therapists, mentors, and recovery coaches with decades of experience in the field. We are lucky to have some of the most qualified and personally experienced addiction specialists in the country. Our team is dedicated to treating your individual needs in the process of helping you get sober.
Detoxing alone is never a good idea. Instead, contact one of our addiction treatment specialists to learn how our programs can help.