Drug & Alcohol Rehab With Ambetter Insurance
When you make the decision to get help for drug or alcohol addiction, you may feel overwhelmed with all of the details you need to sort out in order to go to rehab. One of the most frustrating parts of finding treatment is navigating your way through your health insurance's covered providers and expected costs. Not only that, but simply thinking about the price tag that comes with addiction treatment can be intimidating.
Here at Carolina Center for Recovery, our dedicated admissions counselors can take some of the stress off of your hands by verifying your insurance benefits for you. They will collect your information, verify your in-network benefits, and help you choose the right program based on your needs. You can say goodbye to long waits on the phone to speak with an insurance agent–our team can handle the hard part.
In an effort to expand treatment resources to all those who need them, our North Carolina drug and alcohol rehab is now in-network with Ambetter Health plans.
Ambetter Health Plans
Ambetter Health has insurance plans available in 20 states and has more than 2 million members nationwide.[1] If you have an Ambetter Health plan, it's important to understand your coverage, terms, and resources available. However, all health plans are different, and coverage may vary depending on your specific plan and the state you live in.
By simply calling the phone number on the back of your Ambetter insurance card, you can get in touch with a representative who can explain your coverage to you. A representative can also help connect you with addiction treatment services and other healthcare providers who are in-network with your insurance plan. If a representative isn't available, you can also verify your insurance in your Ambetter member portal.
But, if you are looking for addiction treatment in North Carolina and are covered by Ambetter Health, you've come to the right place. Carolina Center for Recovery is proud to announce we are now in-network with Ambetter Health plans.
Ambetter Insurance Coverage for Drug and Alcohol Rehab: Levels and Plans
Thanks to the Affordable Care Act (ACA), all healthcare plans are required to cover mental health and addiction treatment services.[2] However, how much your insurance will cover and what your out-of-pocket costs are going to be depend on which plan you have selected and which state you live in.
There are three main levels, or tiers, in which Ambetter Health plans are offered. Which level or plan you are enrolled in may dictate how much rehab costs. The three primary tiers offered are: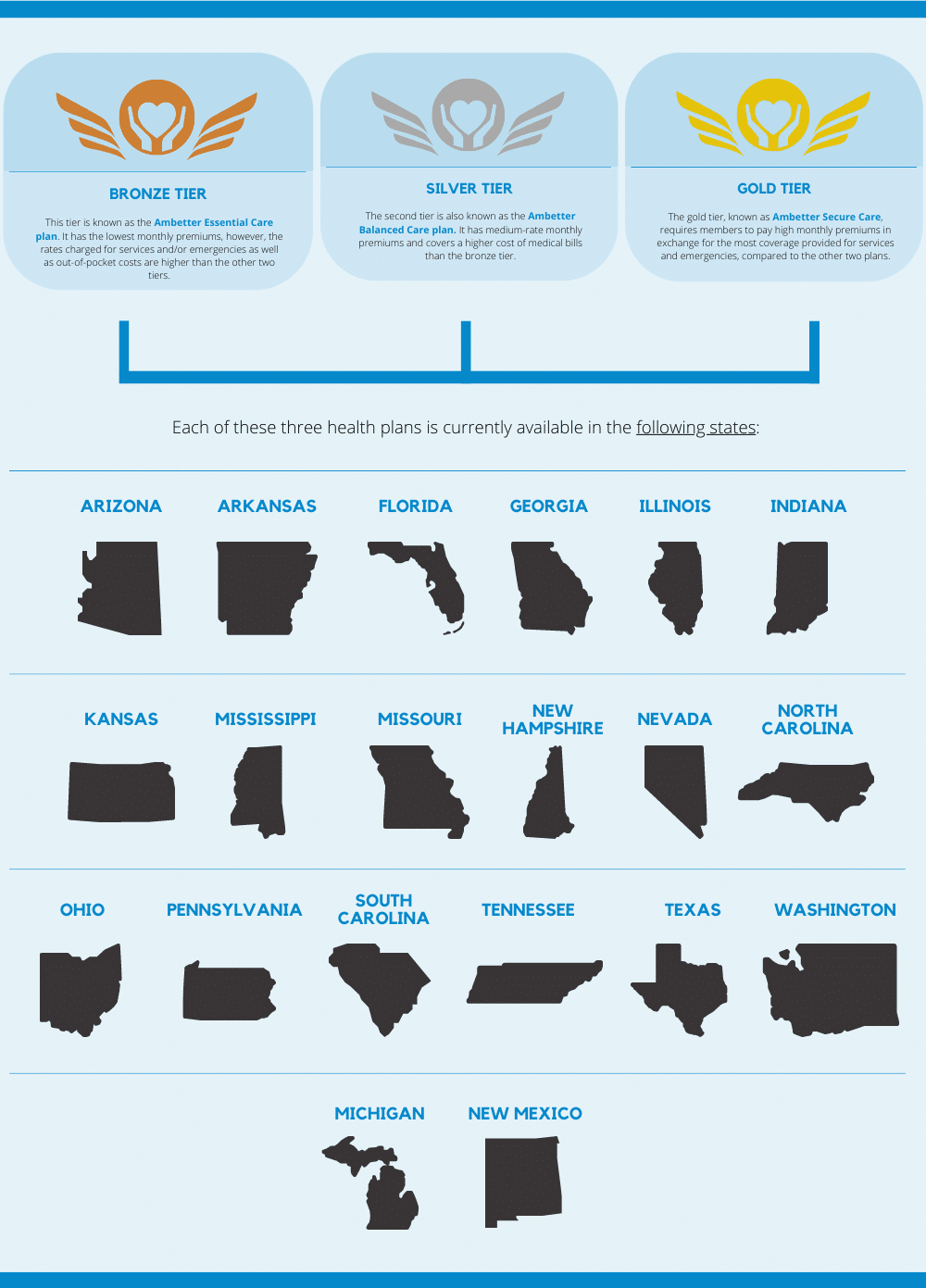 Bronze tier – This tier is known as the Ambetter Essential Care plan. It has the lowest monthly premiums, however, the rates charged for services and/or emergencies as well as out-of-pocket costs are higher than the other two tiers.
Silver tier – The second tier is also known as the Ambetter Balanced Care plan. It has medium-rate monthly premiums and covers a higher cost of medical bills than the bronze tier.
Gold tier – The gold tier, known as Ambetter Secure Care, requires members to pay high monthly premiums in exchange for the most coverage provided for services and emergencies, compared to the other two plans.
Each of these three health plans is currently available in the following states:
Arizona
Arkansas
Florida
Georgia
Illinois
Indiana
Kansas
Mississippi
Missouri
New Hampshire
Nevada
North Carolina
Ohio
Pennsylvania
South Carolina
Tennessee
Texas
Washington
Michigan
New Mexico
Does Ambetter Cover Drug and Alcohol Rehab in North Carolina?
Ambetter Health Plans can be purchased on the Healthcare Marketplace. All plans purchased through this government entity are required, under the Affordable Care Act (ACA) to provide coverage for addiction treatment and mental health services. Some of the services which are protected by the ACA and covered by Ambetter include:
The cost of rehab is also dependent on which level of care you participate in. Residential services are more expensive than outpatient services. If you have met your deductible, you will only have to pay your copay, co-insurance, and any additional costs. If you have already met your out-of-pocket maximum, insurance may pay for 100% of your care.
Addiction treatment usually involves the use of prescription drugs, the cost of which can vary depending on the type of medication needed and for how long it is needed. The cost of medication can range from a $20 co-pay that covers a 30-day supply or a 40-50% coinsurance rate.
Ambetter Health plans will only provide coverage for facilities that are within their network. Choosing treatment outside of Ambetter's network may result in little to no coverage, increasing your out-of-pocket costs.
Paying for Rehab With Ambetter Insurance in North Carolina
Carolina Center for Recovery has detox and treatment centers in Charlotte, North Carolina as well as a location in South Carolina. Our addiction treatment facilities are in-network with Ambetter Health plans and our admissions counselors are available 24/7 to verify your insurance and enroll you in a program.
If you or a loved one are looking for drug and alcohol rehab that is covered by Ambetter insurance, look no further–and don't waste any more time. Call now to begin the admissions process.
References:
Medically Reviewed: July 29, 2021
Medical Reviewer
Chief Editor
About
All of the information on this page has been reviewed and verified by a certified addiction professional.
Dr Ashley Murray obtained her MBBCh Cum Laude in 2016. She currently practices in the public domain in South Africa. She has an interest in medical writing and has a keen interest in evidence-based medicine.
All of the information on this page has been reviewed and verified by a certified addiction professional.