A Guide to Obtaining Employment in Early Recovery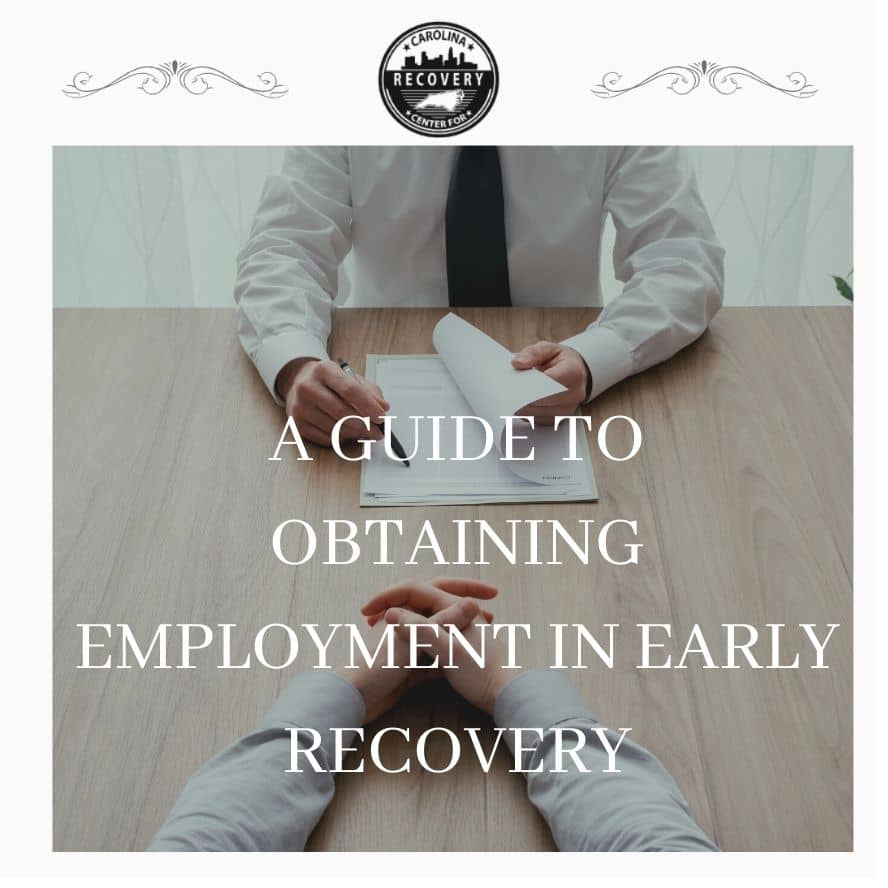 If you or someone you love have struggled with addiction, you probably understand the toll it can take on your mind, body, and spirit. Getting addiction treatment is the best way to overcome addiction and have a fresh start in life. Since addiction can never be truly cured, people must find ways to stay engaged in their recovery for the rest of their lives.
After leaving rehab, many people experience a mix of emotions. Some feel excited for the chance to begin again. Others feel anxious or lack confidence in their ability to stay sober for the rest of their life.
It can be easy to get overwhelmed by all that needs to be done. In many cases, people have to develop new habits, find a new social circle, and in some cases, find a new job.
Finding a job after rehab can be difficult. There are sure to be obstacles and challenges. But with a little support and some knowledge, you can find employment in early recovery.
If you require substance abuse treatment or need assistance finding a job after rehab, reach out to the compassionate staff at the Carolina Center for Recovery for information about how we can support you.
Common Problems You May Encounter When Finding a Job After Rehab
There are some common obstacles people face when finding employment in early recovery. The more you know what you may face when finding a job after rehab, the better prepared you will be.
Lack of References
If your job history is short or you have had employment problems in the past, you may not have a stack of reference letters to hand out to potential employers
Stigma About Addiction
People may have preconceived ideas about how people in recovery may perform at work, or they may worry about how reliable or accountable they may be. The stigma surrounding addiction can keep people from seeing people's real potential and drive.
Unrealistic Expectations
Sometimes, people in recovery may set unrealistic expectations for their employment in early recovery, either in the positions they apply for or the salary they expect.
Legal Issues
If you faced legal issues or a criminal record during addiction, you may face additional challenges finding a job after rehab.
None of these issues have to derail your employment search, but they are things to be aware of as you begin to look for a new job.
Tips For Finding Employment in Early Recovery
Finding a new job may feel overwhelming in any circumstance, but there is often an added layer of complexity in early recovery. You may be starting over in a new location or have cut ties with many people in your previous life. Use these tips to increase your odds of finding a job after rehab.
Network
You are likely to have made some new connections in rehab. This is a great resource for possible job opportunities in the community. Build up your network by joining new groups and organizations. These could be recovery or alumni groups or simply local organizations related to a hobby or interest. The more connections with people you make, the more opportunities you're likely to have.
Use All Available Job Search Support
If your rehab facility offers employment assistance, use it. The staff at a sober living house or other community organizations may also offer you support as you look for employment in early recovery. Your recovery coach may even be able to connect you to local job fairs. You can also check out:
The Department of Labor One-Stop Career Center: a national database of available jobs and resources that help people find work
National HIRE Network: this organization helps connect people with a criminal record with employers who need workers
America in Recovery: an organization that helps people in recovery find employment
Be Patient
If you are excited to start your new chapter or you are facing financial pressure, patience may not come easily. It is important to remember that your priority must always be your recovery. Finding the right balance of work and self-care has to come first. This may take some time, but the work–and the wait–are worth it.
Learn More About Finding a Job After Rehab at the Carolina Center for Recovery
Life after rehab can feel overwhelming at times. It is important to get the support you need so that you can find work and stay active in your recovery. At the Carolina Center for Recovery, we know that treatment doesn't end when you graduate from rehab. That is why we offer support to people at every stage of addiction recovery.
When you go through treatment here at the Carolina Center for Recovery, you will have support every step of the way. Don't wait another day for the treatment you need. Call today to find out how we can help.