Is Inpatient or Outpatient Rehab Right for Me?
Substance abuse and addiction affect the lives of millions in the United States. Some risk factors increase a person's odds of developing an addiction to drugs and alcohol, but anyone can develop an unhealthy relationship with substances that could lead to dependence.
The effects of addiction can be life-altering and even life-threatening. The condition can severely damage your mental and physical health. It can put you at increased risk of legal and financial trouble and strains your relationships.
While many people live with addiction, very few get the treatment they need. According to research by the National Institute on Drug Abuse in 2018, only about 11% of people living with substance abuse get formal substance abuse treatment.
Although most people live with untreated addiction, those who do seek treatment often experience life-changing results and long periods of sobriety. Effective, comprehensive addiction treatment provides the education, support, and therapies people require to put their addiction behind them and move forward into a healthier future.
Addiction treatment is offered in various settings and several levels of care. Generally, people can choose between inpatient and outpatient treatment. This guide can help you understand the differences between inpatient vs. outpatient rehab and help you make the choices that best support your recovery.
What Happens During Rehab?
Substance abuse and addiction are complex conditions that require comprehensive, thoughtful treatment. While treatment plans can be tailored to fit a person's specific needs, most people go through treatment stages during inpatient and outpatient rehab.
First, a doctor or addiction professional will evaluate you to determine which type of program and level of care are appropriate for your case. This evaluation includes questions about your mental and physical health, substance use, treatment history, and other relevant information.
Once you know which type of treatment program you require, you may begin with a medically supervised detox program. During detox, medical and support staff will monitor and treat you for uncomfortable or dangerous withdrawal symptoms. Treatment usually includes medications, emotional support, and comfort cares.
After completing detox, you will begin a tailored treatment program that will help you address the causes of your addiction and learn how to avoid relapse in the future. Treatment plans utilize a combination of evidence-based and holistic treatments, including:
Group therapy
Individual counseling
Family therapy
Medication management
Medical or mental health treatment
Education
Holistic therapies like massage, exercise, art therapy, nutrition counseling, and mindfulness practices
After completing treatment, you must follow an aftercare plan that will help you stay engaged in recovery. This might include joining an alumni network, continuing individual counseling, or attending support groups or 12-step meetings.
Understanding Outpatient Rehab
Outpatient rehab programs are offered in many settings and treatment approaches. Outpatient rehab is more flexible than residential or inpatient treatment. The outpatient rehab schedule allows many to continue working, going to school, or taking care of family members while receiving treatment.
While it can vary from program to program, people in outpatient rehab generally spend 10-12 hours a week engaged in treatment activities. The program staff may adjust the number of sessions per week to meet a person's changing needs. Outpatient rehab programs can last between 3 and 6 months, but be lengthened if people require a more time in treatment.
Some people choose to attend outpatient rehab instead of inpatient treatment. Some may attend outpatient rehab as they transition out of inpatient care. For people with mild to moderate addiction, outpatient rehab may be the right choice.
What Is Inpatient Rehab?
Inpatient rehab provides a rigorous schedule of treatments and therapies in a highly structured environment. While attending an inpatient rehab program, people receive treatment while living in the treatment facility. During their time in residential treatment, people have continuous access to medical and mental health professionals and other support staff.. They receive constant support, treatment, and monitoring.
Inpatient rehab programs vary in length to meet people's unique needs but typically last from 28 days to 6 months. During their stay, people work with a team of doctors, counselors, and other specialists to identify needs and work toward goals. Patients receive high-quality treatment on a regular schedule and live in a safe, structured environment.
Residential treatment provides the safe, supportive environment necessary to overcome it for people with moderate to severe addiction.
Inpatient vs. Outpatient Rehab: Which is Right For Me?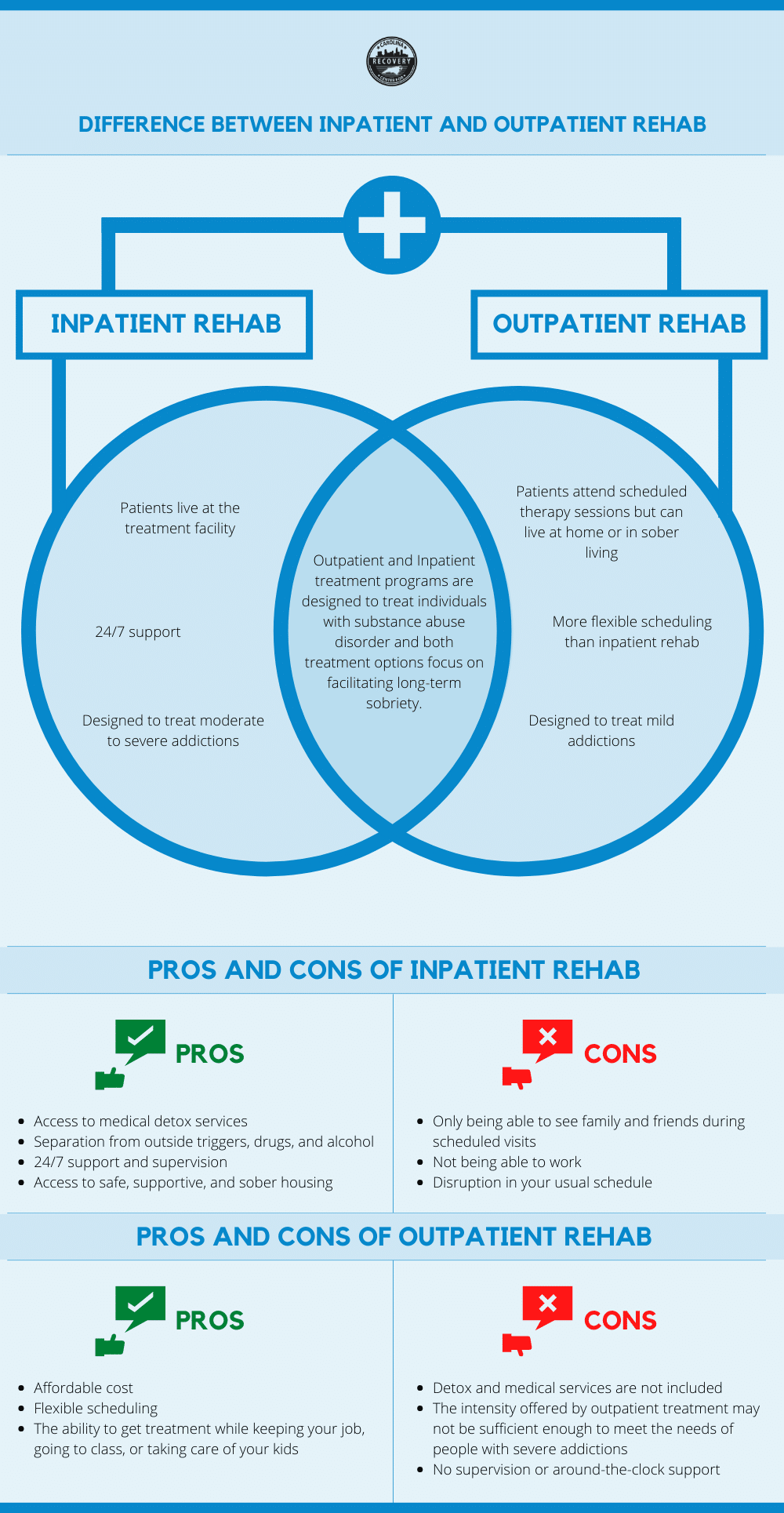 There are benefits to both types of rehab programs. Your doctor or addiction specialist will recommend a level of care before beginning treatment. You must also consider any unique wants and needs before deciding if inpatient vs. outpatient rehab is the right choice.
Inpatient Rehab
Inpatient rehab provides a safe, structured environment for people with severe addiction or significant mental health or medical needs. It may the best option for people who haven't been successful in outpatient rehab, those with intense cravings, or people without stable housing.
Outpatient Rehab
Outpatient rehab allows people the flexibility to continue working and taking care of family members. Outpatient rehab is often significantly less expensive than inpatient rehab and allows people to stay connected to their social groups and hobbies.
Some people choose to complete an inpatient rehab program before moving into outpatient treatment. Others may choose to try an outpatient program and transition into inpatient care, if necessary.
Get Help Now
Choosing the level of care that is right for you isn't always easy, but that's why we're here to help. Our team members are available 24 hours a day to take your call, assess your needs, and help you choose whether inpatient or outpatient rehab is right for you.
For information about starting treatment or finding support during recovery, reach out to the addiction specialists at Carolina Center for Recovery today.