Most Popular Relapse Triggers And How to Cope With Them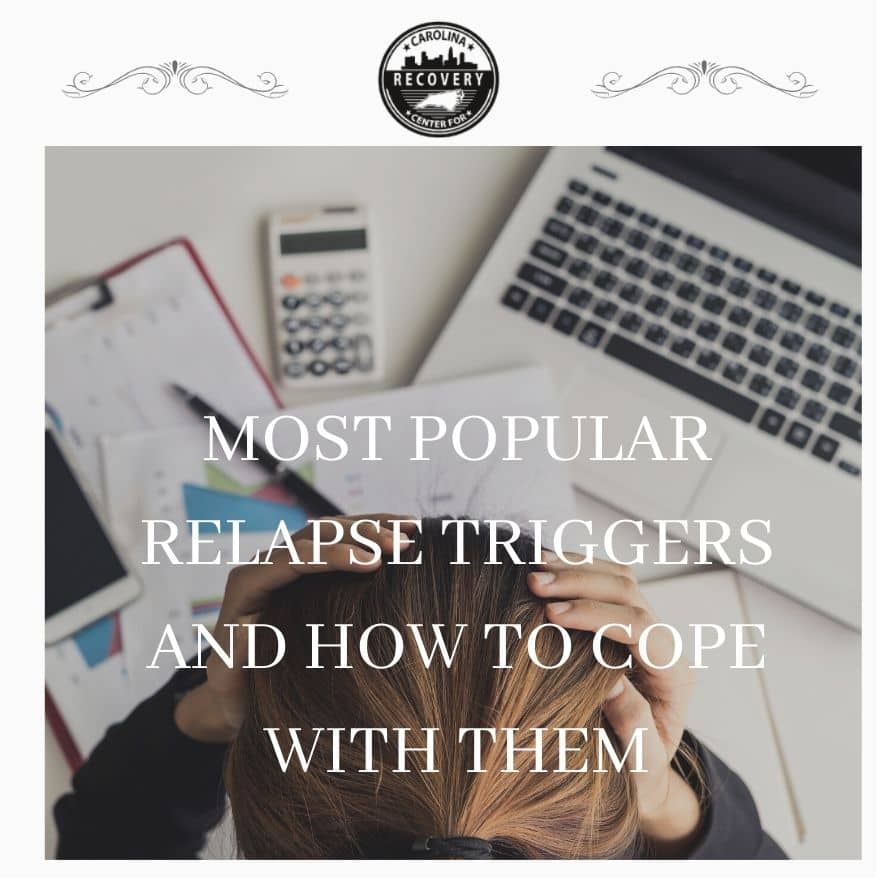 Addiction is a lifelong condition that can affect every aspect of a person's life. Without treatment, people may face a range of challenging consequences to their mental and physical health, relationships, and financial health.
Addiction treatment should be comprehensive. It is not enough to simply go through detox and then continue life as usual. Instead, a treatment program must address the physical, emotional, social, and environmental aspects of addiction. Most people participate in a combination of medical and mental health care, education, and holistic treatments during addiction treatment. After attending treatment, people must continue to stay active and engaged in addiction recovery for the rest of their lives.
For many, recovery is not a straight path–it is a winding journey. The majority of people in recovery will experience at least one relapse in their lifetime. A relapse occurs when someone in recovery begins to use drugs or alcohol again after a period of abstinence. While it is common, many people who have one feel discouraged, hopeless, angry, or ashamed. It can be hard to get back on track after a relapse.
There are several common relapse triggers. Relapse triggers are things that can build up over time and eventually lead to a relapse. The more you know about what can trigger a relapse, the better able you will be to avoid having one. For support during recovery or for information about our substance abuse treatment programs, please reach out to the staff at the Carolina Center for Recovery today.
Identifying Common Relapse Triggers
Every person in recovery has different needs and triggers. However, there are some common relapse triggers that may lead to a relapse.
Boredom
Life in recovery can be full of challenges, changes, and surprises–but it can also happen at a slower pace than when you were in the midst of the addiction. At times, you may feel restless or bored. To combat boredom that can lead to a relapse, find things to fill your time. Schedule time for work or search for employment, exercise, hobbies, and socializing. Take up a new hobby that can connect you with other people, such as playing music, exercising, or creating art.
Spend time with friends and family or friends in recovery.
Special Occasions
Weddings, birthdays, anniversaries, or other special dates can trigger a relapse if you're not prepared. Many holidays and special occasions involve alcohol, and you may have certain special days of the year that previously involved abusing drugs or alcohol. Don't take chances: make a plan to leave a celebration if you feel triggered, and bring a sober friend who can help keep you focused on recovery. If you are unsure of your ability to stay sober during a special event, it is better to choose not to attend.
Mental Health Challenges
Whether you have a history of mental illness or are developing symptoms in recovery, it is important to get support and treatment to protect your sobriety. Untreated mental illness can make it more likely that you will have a relapse.[1] If your mental health symptoms are new, reach out to your medical provider for a referral to a mental health practitioner. If you are in treatment for mental health issues, keep up with your appointments and take your medication as prescribed. Seek support, either in 12-step meetings or other support groups, or in individual counseling.
Relationship Stressors
Addiction puts a great deal of stress on relationships. Many people believe that their relationships will be healed when they finish a substance abuse treatment program. This is usually not the case. Old and new relationship stressors can be major relapse triggers for many people. Involving family members and loved ones in treatment may improve communication and reduce tension in the relationship. Family or couples counseling may be an important part of your recovery plan.
Impulsive Reactions
At times, it can be difficult to see what leads to a relapse. It may seem impulsive or reactionary. One moment you are feeling confident and committed to your recovery and the next you are slipping back into old habits. To avoid an impulsive relapse, think about the acronym HALT.[2] This stands for:
Hungry
Angry
Lonely
Tired
If you are feeling any of these emotions, avoid making major decisions, including using drugs or alcohol.
Take time to identify your relapse triggers and prepare to manage them. If you do have a relapse, use the experience to learn about where you may need more support.
When you are in recovery, you must find a new structure and meaning for your life. This can be an overwhelming process, but living a healthy life of your choice is worth the commitment.
Learn More About Avoiding Relapse Triggers at Carolina Center for Recovery
If you or someone you love requires substance abuse treatment or support during any stage of recovery, reach out to the staff at the Carolina Center for Recovery. We believe that anyone can recover from addiction if they get comprehensive, holistic treatment.
Our addiction treatment programs use behavioral therapy to help you identify your triggers and a holistic approach that teaches you versatile ways to cope. Whether you struggle with your mental health and have a history of self-medicating, are someone who uses drugs and alcohol to cope with stress, or are someone who tends to relapse after major life changes, our program provides you with individualized care so you learn practical ways to cope with your specific triggers and needs. And, before you are discharged from our program, your counselor will work closely with you to develop a customized relapse prevention plan that works for you.
Addiction can feel lonely, but you are not alone. Don't wait another day for the treatment you need and deserve. Call now to learn more about how we can support you on your recovery journey.
References:
https://www.drugabuse.gov/publications/research-reports/common-comorbidities-substance-use-disorders/why-there-comorbidity-between-substance-use-disorders-mental-illnesses
Medically Reviewed: January 11, 2022
Medical Reviewer
Chief Editor
About
All of the information on this page has been reviewed and verified by a certified addiction professional.
Dr Ashley Murray obtained her MBBCh Cum Laude in 2016. She currently practices in the public domain in South Africa. She has an interest in medical writing and has a keen interest in evidence-based medicine.
All of the information on this page has been reviewed and verified by a certified addiction professional.