Multiple Sclerosis (MS) and Substance Abuse: Is There A Connection?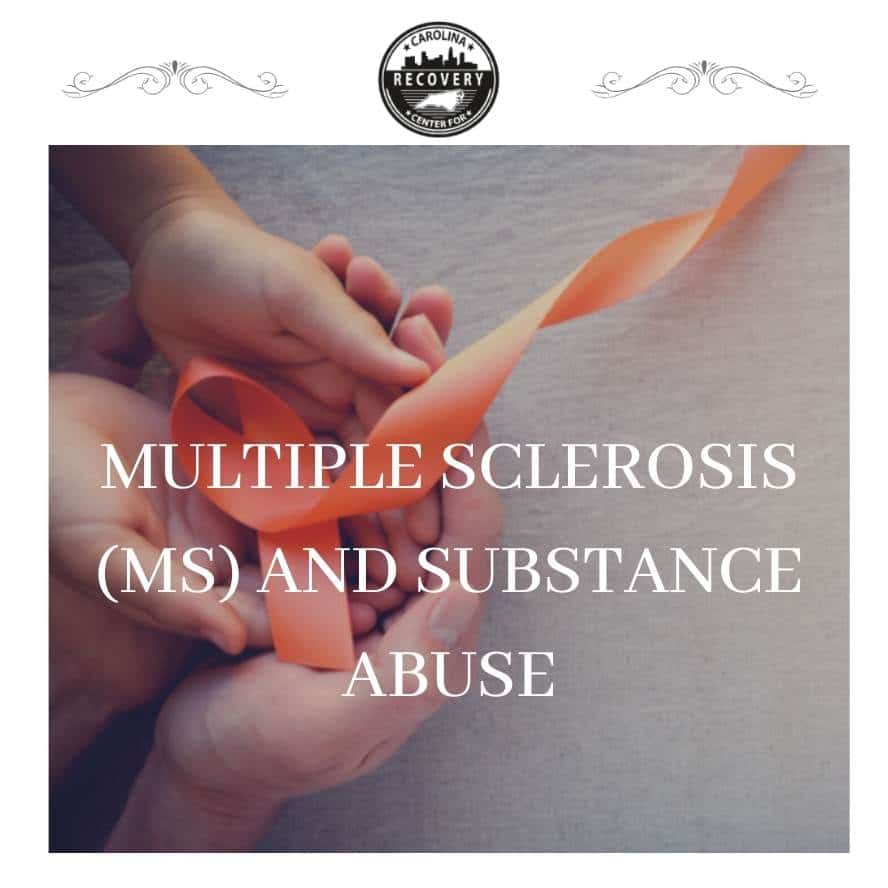 March is multiple sclerosis (MS) education and awareness month. Multiple sclerosis is a condition that complicates day-to-day life on a personal basis. Unfortunately, some people with multiple sclerosis may abuse substances – and substance abuse may be a risk factor for multiple sclerosis.
Some studies have found that substance abuse is present in up to 19% of multiple sclerosis patients.[1] Let's take a deeper look into what this condition is like and what the relationship is between multiple sclerosis and substance abuse.
What is Multiple Sclerosis (MS)?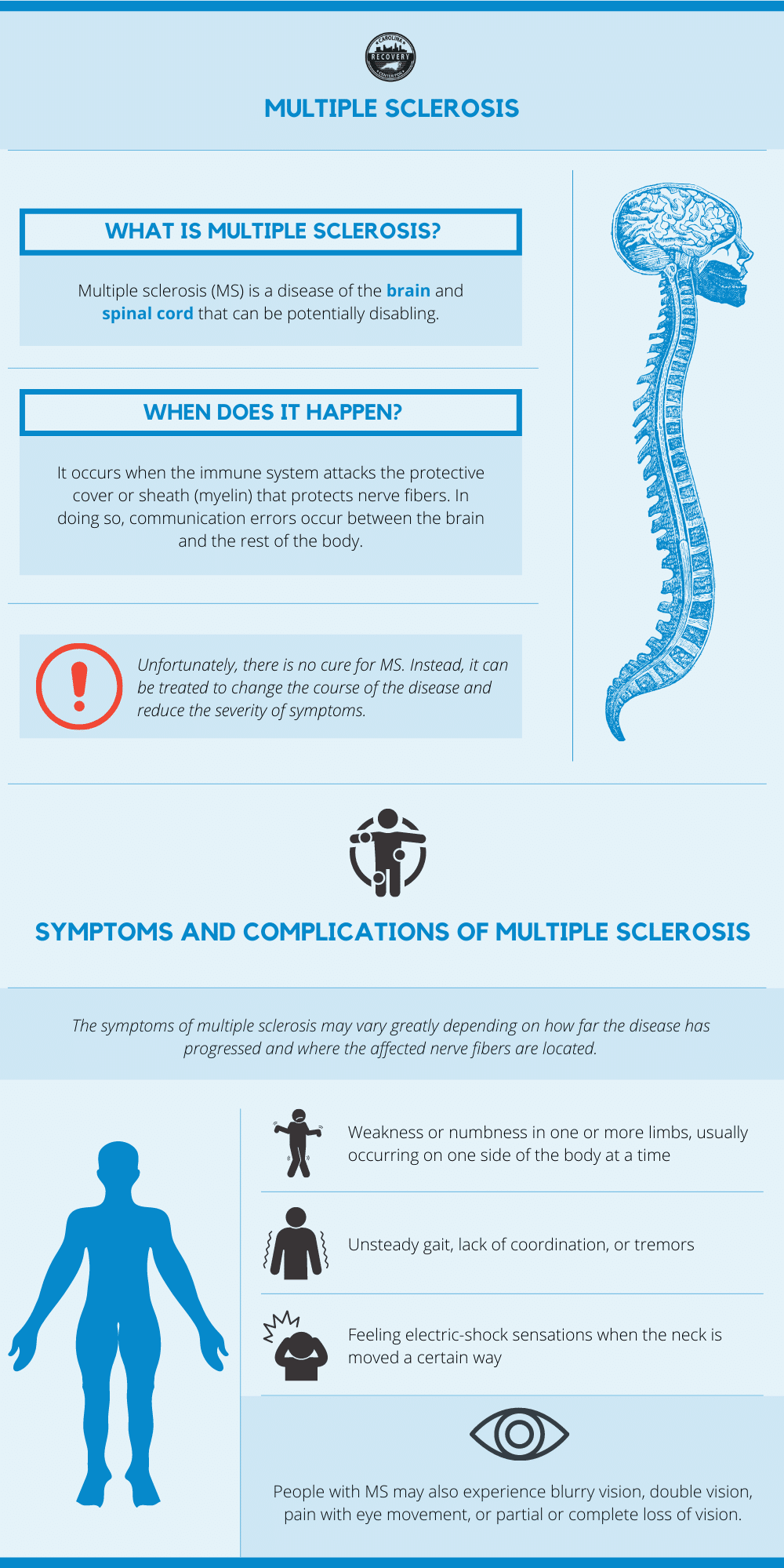 Multiple sclerosis (MS) is a disease of the brain and spinal cord that can be potentially disabling. It occurs when the immune system attacks the protective cover or sheath (myelin) that protects nerve fibers. In doing so, communication errors occur between the brain and the rest of the body.
Ultimately, MS can lead to nerve deterioration or permanent nerve damage. MS presents itself differently from one patient to the next. Some patients will lose the ability to walk independently completely while others will experience symptoms followed by long periods of remission without any symptoms.
Unfortunately, there is no cure for MS. Instead, it can be treated to change the course of the disease and reduce the severity of symptoms.[2]
Symptoms and Complications of Multiple Sclerosis
The symptoms of multiple sclerosis may vary greatly depending on how far the disease has progressed and where the affected nerve fibers are located. The most obvious symptoms are those that affect movement and mobility, including:
Weakness or numbness in one or more limbs, usually occurring on one side of the body at a time
Unsteady gait, lack of coordination, or tremors
Feeling electric-shock sensations when the neck is moved a certain way
People with MS may also experience blurry vision, double vision, pain with eye movement, or partial or complete loss of vision. Additional signs and symptoms of MS include:
Fatigue
Slurred speech
Tingling or pain in the limbs
Problems with sexual function
Problems with bowel and bladder function
Dizziness
Even with treatment, there are many potential complications associated with MS. These include;
Depression
Muscle spasms or stiffness
Paralysis
Mood swings
Forgetfulness
Mental changes
Epilepsy
Alcohol Abuse and Multiple Sclerosis
A survey conducted in the early 2000s asked members of the Multiple Sclerosis Society of King County several questions pertaining to substance abuse. Of all surveyed patients, 14% screened positive for meeting the criteria for alcohol abuse and dependence.[1]
While there are minimal studies so far looking into the direct link between multiple sclerosis and substance abuse, it is understood that MS is a terribly difficult disease to deal with. It can also trigger depression, mood swings, and mental health problems which some people may attempt to self-medicate using alcohol.
Alcohol and MS are a dangerous combination. Alcohol intoxication can exacerbate symptoms of blurry vision, loss of balance, slurred speech, tremors, and coordination, making it even more difficult for the person to move around independently. It may also reduce the efficacy of MS medications.
Still, researchers have found that there is a significant positive association between alcohol use disorders and multiple sclerosis – especially in men.[3] On the other hand, there is an increased risk for developing MS or having an MS-related attack in people who abuse alcohol or are dependent on alcohol.
Drug Abuse and Multiple Sclerosis
The same survey asking members of the Multiple Sclerosis Society of King County about their substance abuse found that approximately 7.4% of the sample group reported using illegal drugs or misusing their prescription medication.[1]
The reasons why patients with multiple sclerosis abuse drugs are likely the same as why they abuse alcohol: to obtain relief from their symptoms. It is not uncommon for people who suffer from depression and other mood disorders to abuse substances to try and feel better. Unfortunately, using substance abuse to cope with multiple sclerosis is dangerous, potentially deadly, and only has negative outcomes in the long-run.
Similar to the evidence found on alcohol abuse and MS, studies show that drug abuse is one risk factor that can increase a person's chances of developing MS or having their MS progress at a rapid rate.[4]
Treatment for Substance Abuse and Multiple Sclerosis
Co-occurring addiction and MS can be extremely dangerous. MS already impairs one's motor and cognitive abilities, and when you throw drugs or alcohol into the mix, it can cause symptoms to progress and worsen no matter what type of care a person is receiving.
People who suffer from these co-occurring disorders will require comprehensive medical and psychiatric treatment. This treatment will be different from traditional dual-diagnosis treatment as there will have to be treatment specialized for MS.
Treatment for MS focuses on treating MS attacks and preventing future ones. This can be done using pharmaceuticals like corticosteroids or plasmapheresis (plasma exchange). People who have primary-progressive MS, or those who do not see periods of relief, may be prescribed Ocrevus – a disease-modifying therapy approved for people with MS. There are also a variety of oral and injectable medications that patients can try to find the one that best fits their needs.
Since the symptoms of multiple sclerosis and the symptoms of addiction and substance abuse are so different, people who have both conditions will need to attend an addiction treatment program that can either assist in getting the patient medical treatment or that can provide on-site treatment and management of MS symptoms. This will involve a combination of behavioral therapy and peer support on top of the standard pharmaceutical MS therapies.
Find Help Today
Multiple sclerosis is a devastating and debilitating disease to deal with, but substance abuse is never the option. There are treatments that can help improve your quality of life and teach you how to be fulfilled while living with MS. To find an addiction treatment provider near you, pick up the phone and call now.
References:
Medically Reviewed: March 4, 2021
Medical Reviewer
Chief Editor
About
All of the information on this page has been reviewed and verified by a certified addiction professional.
Dr Ashley Murray obtained her MBBCh Cum Laude in 2016. She currently practices in the public domain in South Africa. She has an interest in medical writing and has a keen interest in evidence-based medicine.
All of the information on this page has been reviewed and verified by a certified addiction professional.