Outpatient vs. Inpatient Rehab in North Carolina
Outpatient vs. Inpatient Rehab in North Carolina
If you have made the decision to seek inpatient rehab in North Carolina, you probably have a lot of questions and fear. After all, it is scary to get sober if you have relied on a substance for many years. In addition, you may have a lot of questions about addiction treatment, especially if this is your first time seeking help. With a wide variety of different treatment options available, you may feel confused as to which option is right for you. 
The two most common types of treatment include outpatient and inpatient rehab. Deciding whether outpatient or inpatient rehab in North Carolina is right for you is an important step. Although both treatment options focus on facilitating long-term sobriety, both types of treatment are unique. Inpatient programs are residential rehab programs that treat severe addictions or dual diagnosis cases. On the other hand, outpatient rehab involves part-time programs that allow individuals to get help while still going to work or school during the day. Before you choose a treatment program, it's important to understand the difference between the two primary types of treatment. Similarly, finding the right rehab program for you will put you on the right track to sobriety.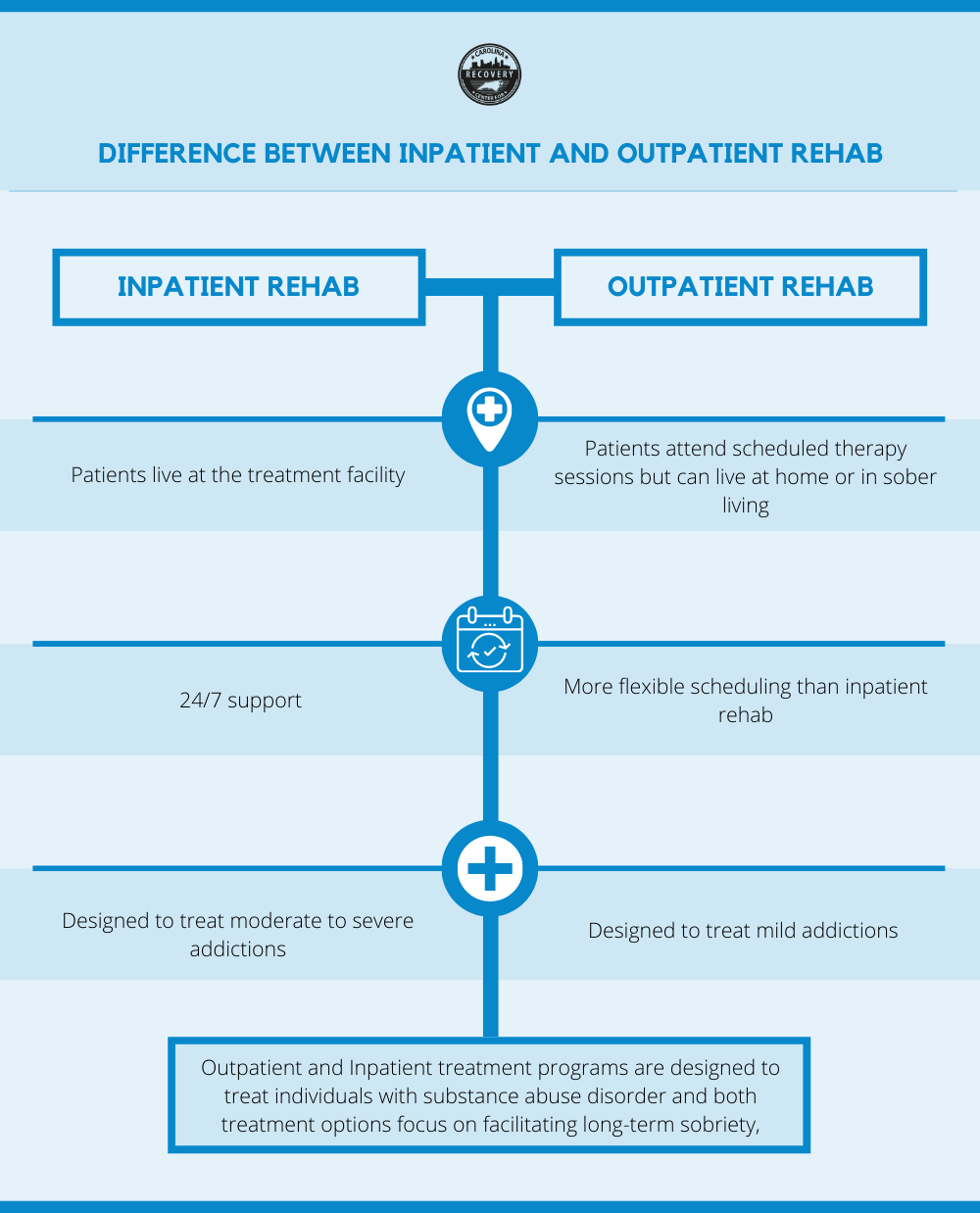 Outpatient Addiction Treatment
Outpatient rehab is far less restrictive and intensive than inpatient rehab. These groups are composed of 10 or more hours a week at a local rehab or counseling center. The sessions are led by a licensed counselor and addiction specialist. During outpatient programming, individuals participate in both individual and group therapy. These programs focus on addiction education, relapse prevention, behavioral therapy, and more. 
Outpatient rehab lasts anywhere from three to six months, with some programs lasting as long as a year. However, it is always important to focus more on your individual needs and the quality of the program rather than the treatment length. Sometimes, outpatient rehab acts as a standalone treatment option for people with mild substance use disorders. In addition, it provides support for people who cannot take time away from work, family, or school, but who require help for substance abuse. 
Lastly, outpatient programs are typically encouraged as aftercare support. Many people who complete inpatient rehab in North Carolina choose to participate in an outpatient program after leaving rehab. After all, outpatient programs allow for ongoing treatment and support. Outpatient rehab allows people in recovery to surround themselves with like-minded individuals and build support groups. Most outpatient programs help prevent relapse and use 12-step facilitation to promote ongoing recovery.
Inpatient Rehab Programs
While inpatient rehab is more costly than outpatient rehab, it typically provides better treatment outcomes than outpatient programs alone. Inpatient drug and alcohol rehabs in North Carolina provide patients with 24/7 medical care and emotional support. These programs revolve around many different treatments, including:
Behavioral therapy

Experiential therapy

Dual diagnosis therapy

Medication-assisted therapy

Trauma therapy

Recreational therapy

Group and individual counseling

Life skills education

Relapse prevention

Family therapy
During inpatient treatment, individuals have the opportunity to focus entirely on their recovery. Patients live either at the facility or at specified housing associated with the treatment center. Consequently, it removes the distractions of everyday life, such as obligations and family stressors. Instead, patients focus solely on their treatment and recovery.
As a more intensive treatment option, inpatient rehab in North Carolina is designed to treat people with severe substance use disorders. Inpatient treatment programs last anywhere from 28 days to several months. However, like any treatment program, it is best to choose a rehab center that offers individualized treatment plans. This means the duration and intensity of your treatment depends on your personal progress. Furthermore, when you are deemed ready to leave inpatient rehab, you should develop an aftercare plan. In most cases, aftercare plans involve support groups, counseling, and outpatient services.
Deciding Which One is Right for You
Getting professional addiction help is one of the most important decisions you will make. While choosing a program is overwhelming, you can rest assured that you are on the right path. When deciding between inpatient and outpatient rehab, there are many factors you should keep in mind. Understanding your personal needs and treatment options will allow you to make the best decision. Consider the following:
Do you have a living environment that is conducive to recovery?

Are you able to leave work, school, or other obligations for a period of time?

Have you tried outpatient rehab before but relapsed?

Do you have any co-occurring mental health disorders?

If you don't go to inpatient rehab, will you be exposed to drugs and/or alcohol?

Do you have reliable transportation to and from a facility?

Have you spoken to an addiction specialist or medical professional about your situation?
In order to determine how severe your addiction is and which type of rehab is best for you, you should speak to an addiction specialist. He or she can help you determine which level of care is needed as well as which type of treatment will best suit your needs and lifestyle.
Outpatient and Inpatient Rehab in North Carolina
Regardless of which treatment option you decide is best for you, getting help for addiction will change your life for the better. As a chronic disease, addiction recovery is an ongoing process. Joining a support group, speaking with a counselor, and attending rehab will provide you with the skills needed to maintain long term sobriety. Take the first step by contacting an addiction specialist at Carolina Center for Recovery. Your new life can start today.
Medically Reviewed: January 18, 2020
Medical Reviewer
Chief Editor
About
All of the information on this page has been reviewed and verified by a certified addiction professional.
Dr Ashley Murray obtained her MBBCh Cum Laude in 2016. She currently practices in the public domain in South Africa. She has an interest in medical writing and has a keen interest in evidence-based medicine.
All of the information on this page has been reviewed and verified by a certified addiction professional.