Recreational Therapy for Addiction Recovery: Hands-on Healing Methods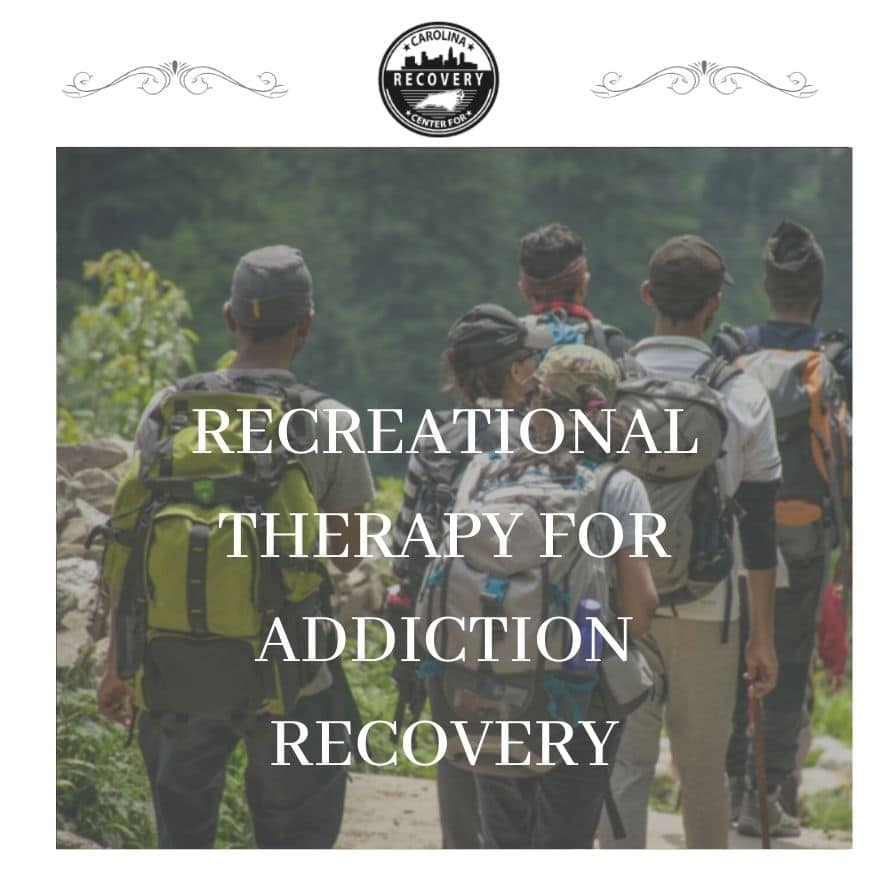 Using recreational therapy for addiction treatment is a method of healing that brings together several different types of activities, such as exercise, yoga, art, horseback riding, hiking, and more. These hands-on activities are known to help boost physical and emotional wellness in patients who are seeking recovery from drug or alcohol addiction. When offered under the guidance of a Certified Therapeutic Recreation Specialist (CTRS), recreational therapy is a highly effective form of alternative treatment for substance addictions.
Virtually anyone who struggles with their mental health, substance abuse, or behavioral conditions can benefit from this type of therapy. That being said, recreation therapy is most effective when it is used in combination with an evidence-based treatment program that focuses on behavioral therapy, relapse prevention, and support group facilitation. These various types of therapeutic interventions are used to treat anger problems, grief, behavioral issues, eating disorders, drug addiction, and alcoholism.
Overall, the primary goal of recreational therapy is to help patients recognize and process emotions that they are struggling with. It can help individuals improve their physical, social, emotional, intellectual, and spiritual ways of living. At the same time, these activities can help boost resilience, further aiding individuals as they learn to overcome the specific challenges associated with addiction and recovery.
Recreational Therapy: An Overview
Although recreational therapy has become increasingly popular over the last 30 years, history shows that people were using these therapies in the early 1900s. In 1984, the American Therapeutic Recreation Association (ATRA) was developed to set the standards for recreational therapies. As a result of the formation of ATRA, recreation became more and more popular over the coming years. In fact, the United States Department of Labor estimates that there are more than 19,000 recreational therapists in the United States.
The five guiding principles that ATRA stands behind are as follows:
Therapy should be provided in diverse settings
APIED (assessment, planning, intervention, evaluation, and documentation) are at the foundation of therapy
The importance of evidence-based therapies, professional credentialing, and proper accreditation
Therapy should facilitate the development of powerful relationships
The importance of mentoring and developing professional individuals
Sometimes, recreational therapy is referred to as therapeutic recreation. This form of therapy takes advantage of activity-based interventions in order to address the specific needs of individuals. However, since no two individuals are exactly the same, therapeutic recreation should be adjusted to meet each patient's individual lifestyle needs and beliefs. Individualized treatment plans such as these can help improve a person's thought processes, decision making, and overall well-being.
This hands-on therapy approach aims to improve one's sense of independence and healthy living skills. As a result, recreation therapy can help reduce and even eliminate many symptoms associated with mental illness and/or addiction.
The Use of Recreational Therapy in Addiction Treatment
There are many different therapeutic recreational activities therapists use to help address the emotions and symptoms that are standing in the way of a patient's recovery. By addressing particular challenges, patients can learn how to deal with things like depression, anxiety, trauma, grief, and cravings. In addressing each of these issues and more, recreational therapy has many benefits when used at addiction treatment centers, such as:
Encouraging patients to push themselves to overcome their difficulties. This promotes feelings of accomplishment as well as mental and physical resilience.
Teaching patients to trust others and to build meaningful relationships through team and trust-building activities.
Promoting leadership skills and social skills by means of support systems and team-building.
Helping patients develop a better sense of confidence, self-esteem, and self-worth.
Encouraging patients to walk through difficult challenges, face their fears, and heal without using drugs or alcohol.
Providing patients with an outlet from or an alternative to traditional behavioral therapy.
Teaching relapse prevention skills that help patients cope with hardships in recovery.
Helping to improve motor functioning and cognitive abilities
Promoting self-care, better mental health, and improved physical health.
Introducing patients to hobbies and activities that they may enjoy and spend time doing rather than using drugs or alcohol.
Helping reduce patients' sense of isolation, depression, stress, and anxiety
Building self-awareness and problem-solving skills.
Motivating the group to live healthier, independent, and happy lives.
When recreational therapy is used in the treatment of substance addictions, it helps expose patients to new activities while providing a much-needed break from the intensive emotional work that is done in therapy sessions. Oftentimes, people participating in therapeutic recreation don't even realize that they are healing – they just feel like they're participating in an activity. However, the truth is that therapeutic recreation can help break so many destructive behavioral patterns that lead people down the road of drug or alcohol abuse. Lastly, recreational therapy offers a "whole-patient" approach – one that focuses on healing the mind, body, and spirit.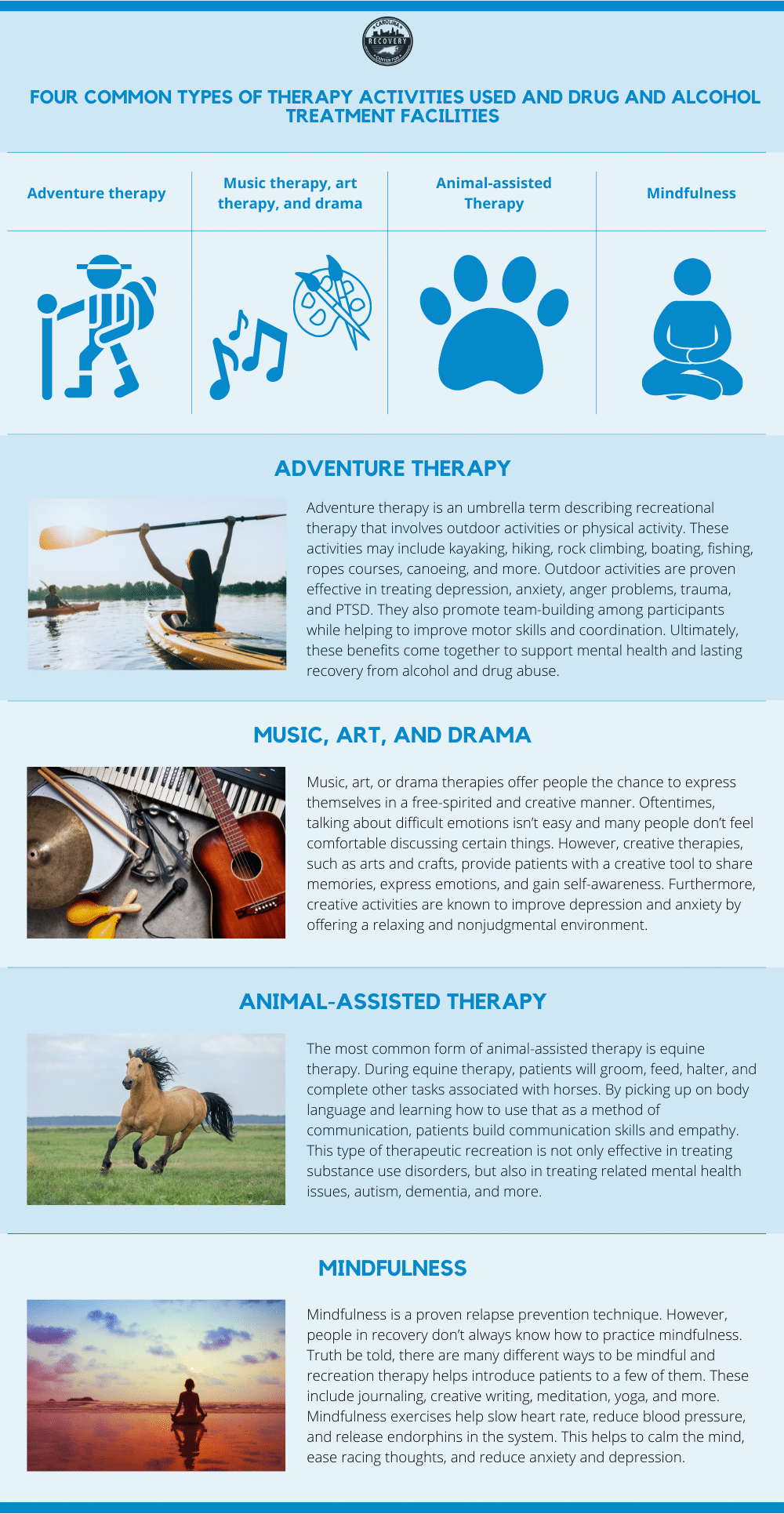 Types of Recreational Therapies Used in Treatment for Addiction
Prior to starting an addiction treatment program, your therapist should work with you to develop a treatment plan that meets your specific needs. So, your experience in rehab may look different than someone else's. At the same time, recreational therapy for addiction involves several different activities, some of which are offered year-round while others are seasonal. Four common types of therapy activities used and drug and alcohol treatment facilities are:
Adventure therapy
Music therapy, art therapy, and drama
Animal-assisted therapy
Mindfulness
Adventure Therapy
Adventure therapy is an umbrella term describing recreational therapy that involves outdoor activities or physical activity. These activities may include kayaking, hiking, rock climbing, boating, fishing, ropes courses, canoeing, and more. Outdoor activities are proven effective in treating depression, anxiety, anger problems, trauma, and PTSD. They also promote team-building among participants while helping to improve motor skills and coordination. Ultimately, these benefits come together to support mental health and lasting recovery from alcohol and drug abuse.
Music, Art, and Drama
Music, art, or drama therapies offer people the chance to express themselves in a free-spirited and creative manner. Oftentimes, talking about difficult emotions isn't easy and many people don't feel comfortable discussing certain things. However, creative therapies, such as arts and crafts, provide patients with a creative tool to share memories, express emotions, and gain self-awareness. Furthermore, creative activities are known to improve depression and anxiety by offering a relaxing and nonjudgmental environment.
Animal-Assisted Therapy
The most common form of animal-assisted therapy is equine therapy. During equine therapy, patients will groom, feed, halter, and complete other tasks associated with horses. By picking up on body language and learning how to use that as a method of communication, patients build communication skills and empathy. This type of therapeutic recreation is not only effective in treating substance use disorders, but also in treating related mental health issues, autism, dementia, and more.
Mindfulness
Mindfulness is a proven relapse prevention technique. However, people in recovery don't always know how to practice mindfulness. Truth be told, there are many different ways to be mindful and recreation therapy helps introduce patients to a few of them. These include journaling, creative writing, meditation, yoga, and more. Mindfulness exercises help slow heart rate, reduce blood pressure, and release endorphins in the system. This helps to calm the mind, ease racing thoughts, and reduce anxiety and depression.
Getting Sober with Recreational Therapy in North Carolina
At Carolina Center for Recovery, we know that getting sober isn't always easy. However, we dedicate each and every day to teaching our patients how to live a sober, happy, and successful life. By taking a holistic approach to addiction treatment, our recreational therapy can help you achieve these goals and more.
Between helping you manage your withdrawal symptoms during detox to providing you with hands-on healing methods, our certified drug and alcohol counselors are here for you. Call us today for more information about our North Carolina drug and alcohol treatment programs.