Therapies Used During Addiction Treatment in North Carolina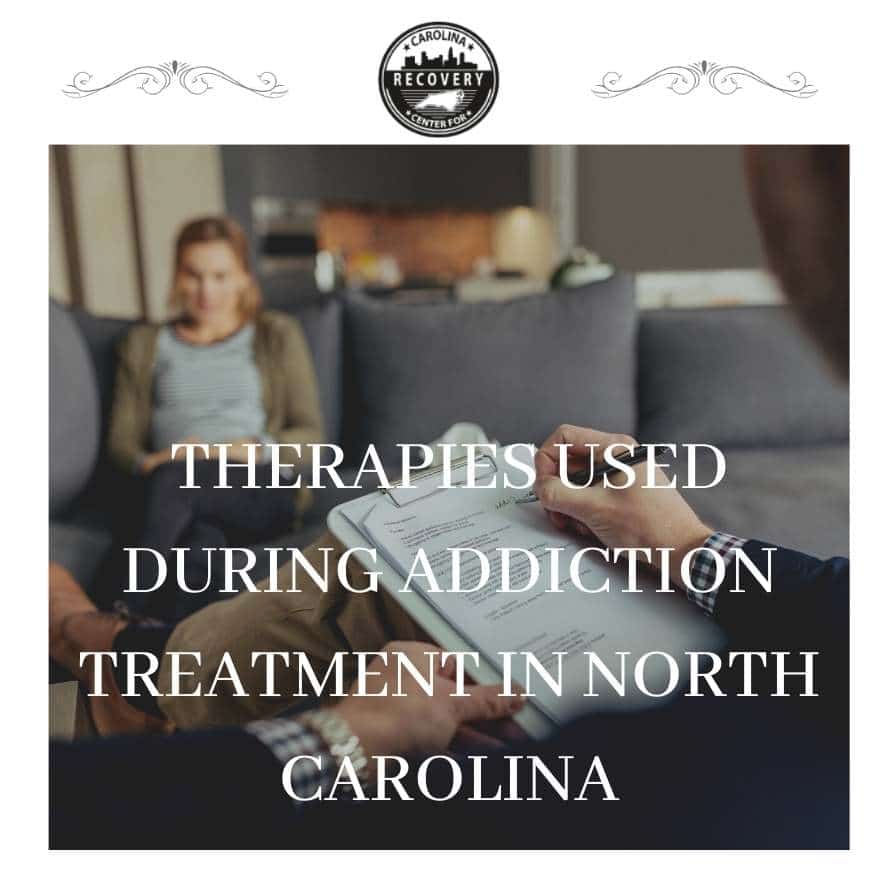 There are many different types of therapy used during addiction treatment in North Carolina. Some are behavior and action-based while others are thought and emotion-oriented. Since addiction is a complex and multifaceted disease, it is helpful to incorporate a variety of different therapies into the addiction treatment process. Doing so can help target addiction from multiple angles and provide patients with more applicable tools for coping without drugs and alcohol.
Let's take a look at some of the most common addiction treatment therapies in North Carolina and how they each work.
Cognitive Behavioral Therapy (CBT)
Cognitive-behavioral therapy (CBT) is one of the most frequently used therapies in addiction treatment centers in North Carolina. It focuses on the idea that problems in life are the result of harmful thinking patterns, negative behaviors, and ineffective coping techniques.
As a result, CBT aims to help patients recognize and change harmful thought processes by teaching individuals how to reevaluate their thoughts in a realistic manner. CBT also teaches problem-solving, self-confidence, coping skills, and emotion regulation. This technique encourages patients to replace unhealthy patterns with healthy ones that are conducive to recovery.[1]
Family Systems Therapy
When patients are supported by their family members they often have an easier time in treatment and in recovery. And, family support can play a huge role in the healing process. As a result, many addiction treatment programs in North Carolina provide family therapy during treatment.
Family systems therapy aims to address the different roles each family member plays in the home. It also tries to get family members to identify unhealthy behaviors, learn how to improve communication, and set boundaries. These skills can support a healthier home and family unit.
Family therapy can also educate family members about the disease of addiction and the recovery process. This allows loved ones to be better equipped to understand and support their addicted loved ones, both during and after treatment.
Contingency Management (CM)
Contingency management (CM) is a type of behavioral therapy that is used in addiction treatment in North Carolina. This approach is one where patients are rewarded for positive actions or changes they make in their lives. CM is based on the principle of positive reinforcement.[2]
Examples of CM used in rehab include offering prizes for negative drug tests or vouchers for meeting certain treatment goals. The purpose of CM is to help increase treatment retention rates and improve a person's likelihood of staying sober and finding value in their sobriety.
Motivational Interviewing (MI)
Motivational interviewing (MI) is a therapeutic approach during which the counselor tries to motivate his or her client to stay sober by helping the client recognize his or her motivations, values, and goals in life. It can be hard for people to be willing to change if they feel as though they are being forced to change by some external force. MI allows patients to recognize the intrinsic values within themselves that should motivate them to stay sober.
MI is thought to not only help improve treatment retention rates but also increase treatment success rates by reducing the risk of relapse. This approach can also help encourage patients to participate more in groups and be more goal-driven.[2]
12-Step Facilitation Therapy
12-Step groups, like Alcoholics Anonymous (AA) and Narcotics Anonymous (NA) are spiritual-based fellowships where men and women go to get sober and help others get sober. The 12-Steps play a huge role in recovery for many people.
During rehab, patients may be introduced to the 12-Steps through 12-Step facilitation therapy. The goal of this therapy is to bring patients to 12-Step meetings and start promoting the ideas that are taught in the 12-Steps. Some of these ideas include acceptance, surrender, group therapy, and relapse prevention strategies. This type of therapy is particularly helpful in teaching patients how to develop a sober support network.
Rational Emotive Behavior Therapy (REBT)
Another therapy used in addiction treatment in North Carolina is Rational Emotive Behavior Therapy (REBT). This approach is meant to help patients identify negative thought patterns and beliefs that perpetuate distressing and harmful actions.
REBT is very similar to CBT except REBT focuses more on a person's belief system and logic rather than their actual behaviors. For example, REBT helps patients identify irrational thoughts and how they lead to negative behaviors, but it also helps encourage patients to take responsibility for their actions and set healthier goals for themselves.
Eye Movement Desensitization and Reprocessing (EMDR)
Eye movement desensitization and reprocessing (EMDR) is a popular treatment for co-occurring trauma, PTSD, and substance abuse. It involves asking the patient to follow the therapist with their eyes as the therapist makes specific movements while asking the patient to recall traumatic memories from the past.[3]
This technique may seem scary, but it helps to replace negative images that are associated with past trauma with more positive images and belief systems. As a result, EMDR therapy is effective at helping patients cope with anxiety and PTSD without using addictive substances.
Psychodrama
Psychodrama is a form of experiential therapy that uses props, role-playing, role reversal, mirroring, and re-enactment strategies to assist clients in addressing hidden emotions or thoughts associated with their past.
The goal of psychodrama is to help patients address and release negative emotions that may be holding him or her back from a full recovery. Although experiential, this technique should always be used under the guidance of a qualified treatment professional.
Start Therapy at an Addiction Treatment Center in North Carolina Today
At Carolina Center for Recovery, we employ multiple evidence-based therapeutic techniques to give you the best possible shot at a full recovery. We know how complicated addiction can be, and we also know how important it is to address every part of your disease. That's why our therapies are tailored to meet your specific needs – so you can get the care you deserve.
Get started with addiction therapy at our North Carolina drug and alcohol rehab center today.
References: