What is Intensive Outpatient Programming (IOP) Like in North Carolina?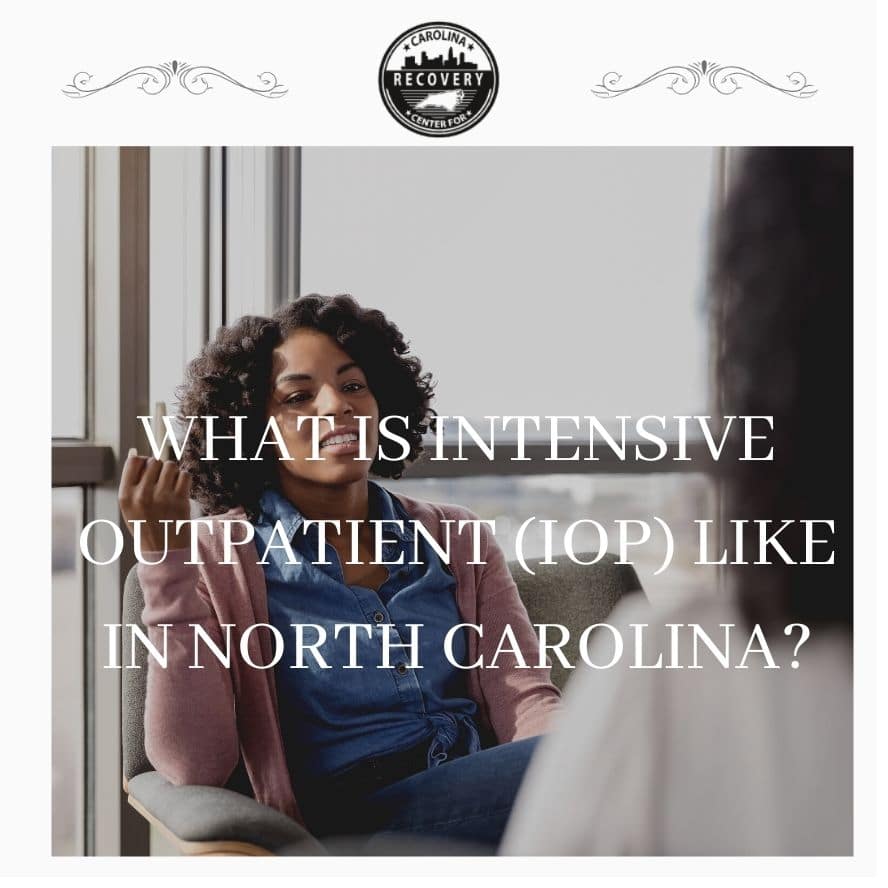 Professional treatment is vital for a successful recovery. If you've accepted that you need help with a drug or alcohol problem, your next step is to choose the right treatment program. There are many different types of rehab and various levels of care you can participate in. One of the most popular types of addiction treatment programs is intensive outpatient programming (IOP).
IOP is more intensive than standard outpatient (OP) but less structured than inpatient rehab or PHP. It is intended for those who have already completed a higher level of care, people with mild to moderate addictions, or those who cannot go to inpatient rehab for one reason or another. Here is what you can expect if you choose to go to an IOP in North Carolina.
What is Intensive Outpatient Programming (IOP)?
Intensive outpatient programming (IOP) is a type of outpatient addiction treatment that can address mild to moderate substance use disorders. It is non-residential, so you can live at home or in a sober living facility, but it is still intensive enough to provide comprehensive and individualized support. Many people enroll in IOP after they leave an inpatient rehab facility so they can have an easier transition back to "real life." Others enroll in IOP because they need help with addiction, but are unable to take time away from work, school, or family to go to an inpatient program.
What to Expect During IOP in North Carolina
While all intensive outpatient programs may be slightly different, here is what you can expect:
Intake and Assessment
Before starting IOP, all patients go through the intake and assessment process. During intake, an admissions coordinator will speak with you about the treatment program, make sure you are a good fit for the program, verify your insurance, and get your enrollment started. Once enrolled, you move on to the assessment portion.
The assessment is a detailed process where members of the clinical team ask you questions to learn about your addiction. You will answer questions pertaining to your medical history, your mental health, any prescriptions you are taking, what your substance abuse looks like, and what your treatment goals are. This information helps the team develop an individually-tailored treatment plan that meets your needs.
Once the assessment is complete, you will be given a schedule of your therapy sessions and instructions about how to participate in the program.
Scheduled Group and Individual Therapy Sessions
Unlike residential treatment, IOPs in North Carolina do not require you to live at the treatment facility. You can live at home or in a sober home, continue going to work, and complete your daily responsibilities as you usually would. You only attend treatment during your scheduled times.
Many IOPs meet 3-4 times each week and have sessions that last 2-3 hours at a time. You will participate in several group therapy sessions each week and an individual therapy session with you and your primary therapist.
Therapy sessions help you uncover the causes of your addiction, poor thought processes, and maladaptive coping mechanisms so you can begin to heal. It also helps you move past your struggles, develop healthier thought processes, and learn effective coping skills that promote a sober lifestyle.
Relapse Prevention Training
Since IOP is held on an outpatient basis, you have a lot of freedom and flexibility. This can lead to a relapse if you aren't dedicated to your recovery and well-versed in relapse prevention. As a result, a major aspect of IOP in North Carolina is relapse prevention training.
During relapse prevention, you work with your therapist and peers to figure out what people, places, and things trigger thoughts of using drugs or alcohol. You also work together to learn how to identify the signs of relapse and what leads to relapse. Then, you devise detailed relapse prevention plans that outline how you react in triggering situations and things you can do to get your recovery back on track.
Since you are not living in a structured, supervised setting, you are able to practice these relapse prevention skills in your day-to-day life, report back to your therapist about how well they worked, and see your own recovery grow in real-time.
Vocational, Social, and Medical Services
IOP programs are more flexible than inpatient ones, but they are more structured than OP ones. IOPs tend to offer a range of services in addition to therapy and relapse prevention to address the medical, social, and vocational challenges that you may face. Aside from therapy, other services you may have access to during IOP include:
Case management
Medication management
Vocational training
Alumni programs
Recreational or holistic therapies
The Benefits of Going to IOP in North Carolina
An intensive outpatient program can help introduce you to a lifestyle of sobriety without making you sacrifice the things that mean the most to you, like work, family, or your education. There are many benefits of going to an IOP, such as:
More affordable than residential treatment
Comprehensive, individualized care
Flexible scheduling
Additional services and amenities for a full recovery
Find an Intensive Outpatient Program (IOP) in North Carolina Today
Carolina Center for Recovery offers individualized and extended-term treatment in an intimate setting in Charlotte, North Carolina. Our program is state-licensed and CARF accredited with a team comprised of doctors, clinicians, therapists, mentors, and recovery coaches with decades of experience helping people overcome addiction. We are confident we can provide you with the quality care you deserve.
If you or a loved one are struggling with addiction, pick up the phone and give us a call today. We're eager to be a part of your recovery journey.