4 Benefits of Outpatient Rehab in North Carolina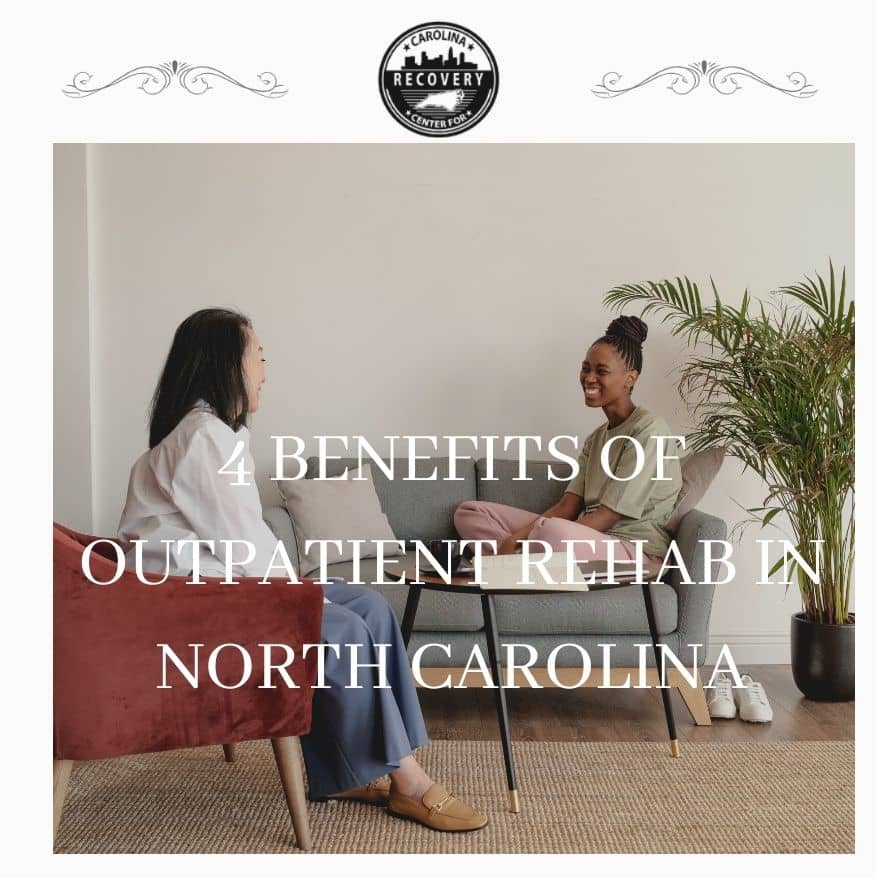 No two people have the same journey with addiction or recovery. Addiction treatment happens in several levels of care and many different types of programs. The variety of treatment options means that each person's needs will be met.
Many people avoid seeking the treatment they need because they think they will have to stop working or take extensive time away from their families. They may also worry about paying for rehab or be concerned that others may perceive them differently if they start treatment.
Outpatient rehab offers people a balance between high-quality treatment and the flexibility necessary to stay engaged with their daily lives and support network. There are different kinds of outpatient rehab programs available in North Carolina. Understanding what is involved in this level of care can help you make decisions about your treatment plan.
If you or a loved one require addiction or substance abuse treatment, reach out to the staff at the Carolina Center for Recovery for information about the benefits of our outpatient rehab programs. You do not have to carry the burden of addiction alone. If you are ready to take the first step, we will walk the rest of the way with you.
What Happens in Outpatient Rehab in North Carolina?
Outpatient treatment programs vary in length and approach depending on people's needs. Many people in outpatient rehab have completed a higher level of care, such as an inpatient or residential treatment program. Others may benefit from the flexibility an outpatient program provides and do not require the structure of a higher level of care.
Generally, outpatient treatment programs involve:
Individual therapy
Group counseling sessions
Family therapy
Skills building and practice
Education
Aftercare planning
Holistic therapies–exercise, nutrition counseling, art, music, acupuncture, and other healing treatments
A medical or addiction professional will help you determine the right level of care to meet your needs. The level of care you need will depend on a variety of factors, including the length and severity of your addiction, your medical and mental health needs, and whether or not you have a safe, stable place to live.
Four Important Benefits of Outpatient Rehab
For people who do not require a more intensive level of care, outpatient rehab can provide many important benefits.
1.  High-Quality Care
Outpatient rehab offers a high level of care. The time a person spends in treatment is shorter than in a residential, partial, or intensive outpatient program. Because of this time limitation, all the treatment time is spent in evidence-based treatment activities. Specially-trained therapists and doctors provide treatment services in a concentrated timeframe. People get high-quality treatment while being able to stay active in their daily lives.
2. Flexibility
People in outpatient rehab in North Carolina are often able to get treatment in their own communities and remain close to their support networks. Outpatient care is more flexible and plans can be adapted to fit people's lives and schedules. People in outpatient rehab can often continue to work or go to school and do not need to leave their homes or families to get the treatment they need.
3. Privacy
Because outpatient rehab is more adaptable and flexible than inpatient treatment, people can continue to live their lives and see their friends and families regularly. Unlike residential treatment, people in outpatient programs do not need to take a leave of absence from work. This provides an added layer of privacy for people who do not wish to share that they are in rehab.
4. Affordability
Outpatient programs are generally more affordable than other more intensive treatment programs. People who are unable to pay for inpatient or residential treatment may be able to have their treatment needs met through an outpatient rehab program. It is a good option for people who have completed a higher level of care.
If you or a loved one require outpatient rehab in North Carolina, reach out to the staff at the Carolina Center for Recovery to learn more about how we can support you on your recovery journey.
Learn More About the Benefits of Outpatient Rehab at Carolina Center for Recovery
Addiction and recovery can feel lonely, but you do not have to go through it alone. At Carolina Center for Recovery, we believe that anyone can recover from addiction if they get the support and treatment they need. Our adaptable, comprehensive programs are designed to care for the whole person–body, mind, and spirit–so that they can overcome addiction and learn how to live healthy, fulfilling lives.
Don't wait another day to get the treatment you need and deserve. Call today to talk to one of our admissions counselors about getting started.
Medically Reviewed: February 1, 2022
Medical Reviewer
Chief Editor
About
All of the information on this page has been reviewed and verified by a certified addiction professional.
Dr Ashley Murray obtained her MBBCh Cum Laude in 2016. She currently practices in the public domain in South Africa. She has an interest in medical writing and has a keen interest in evidence-based medicine.
All of the information on this page has been reviewed and verified by a certified addiction professional.