Holistic Therapies for Addiction Treatment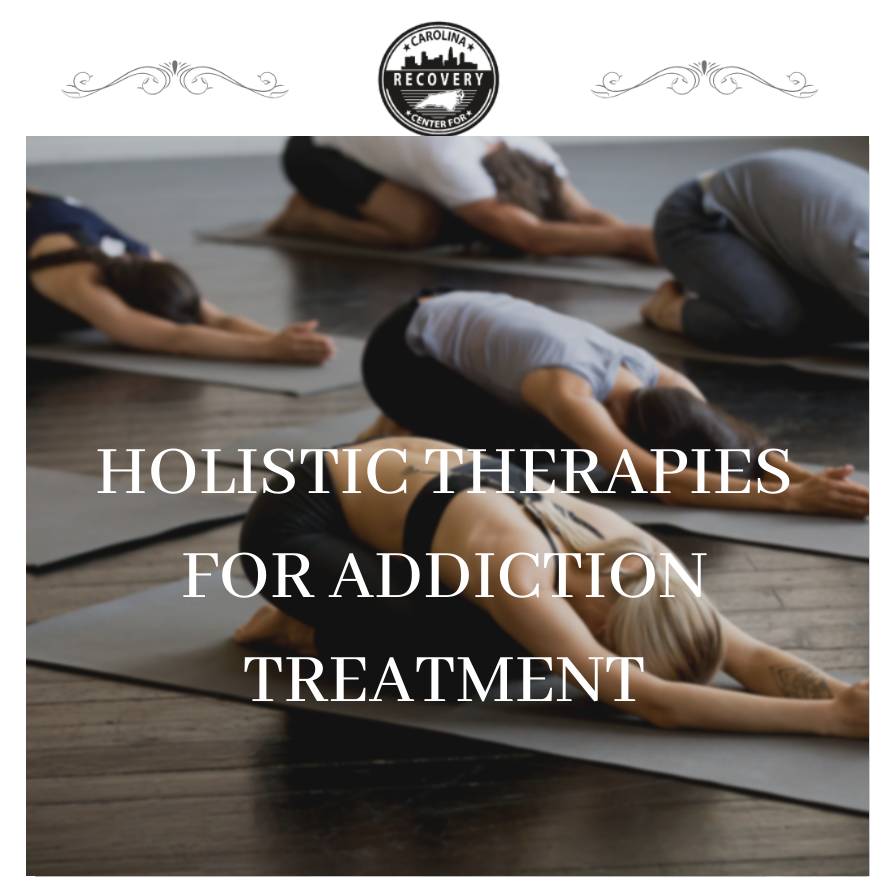 Holistic Therapies for Addiction Treatment
Addiction is a complex disease of the brain that does not discriminate. Therefore, it is no surprise that recovery is not formatted to a one-size-fits-all modality. The traditional methods of treating addiction have been challenged with integrative approaches to treating substance use disorders. Many individuals suffering from addiction come from different backgrounds, traumas, and various walks of life. 
Holistic addiction therapies often complement traditional treatment practices. These specific therapies aim to treat addiction as a three-part illness. The goal of holistic recovery is to bring harmony to the mind, body, and spirit. Holistic therapies focus on treating the individual as a whole, while also treating the physical symptoms of addiction and withdrawal. Treatment approaches include a plan to improve the physical, emotional, and mental health of the individual. Substance abuse rehab programs in North Carolina that offer holistic therapies cultivate a number of long-term benefits in treating addiction. 
What is Holistic Therapy?
Holistic therapy programs incorporate individualized, integrative methods of addiction recovery. Holistic therapists focus on treating physical, mental, emotional, spiritual, and nutritional imbalances. Holistic addiction therapies consider the fact that each individual has intrinsic healing potentials and that healing requires an integrative approach. This specific therapy generally addresses the correlation between lack of sleep, poor diet, and emotional stress associated with substance use disorder. These addiction-specific therapies are flexible and cater to the needs of each individual. 
Some of the goals of holistic therapy include:
Promoting physical fitness

Identifying underlying causes of addiction

Increasing self-esteem

Establishing a spiritual connection

Reducing drug and alcohol cravings

Establishing resistance to cravings
Types of Holistic Addiction Therapies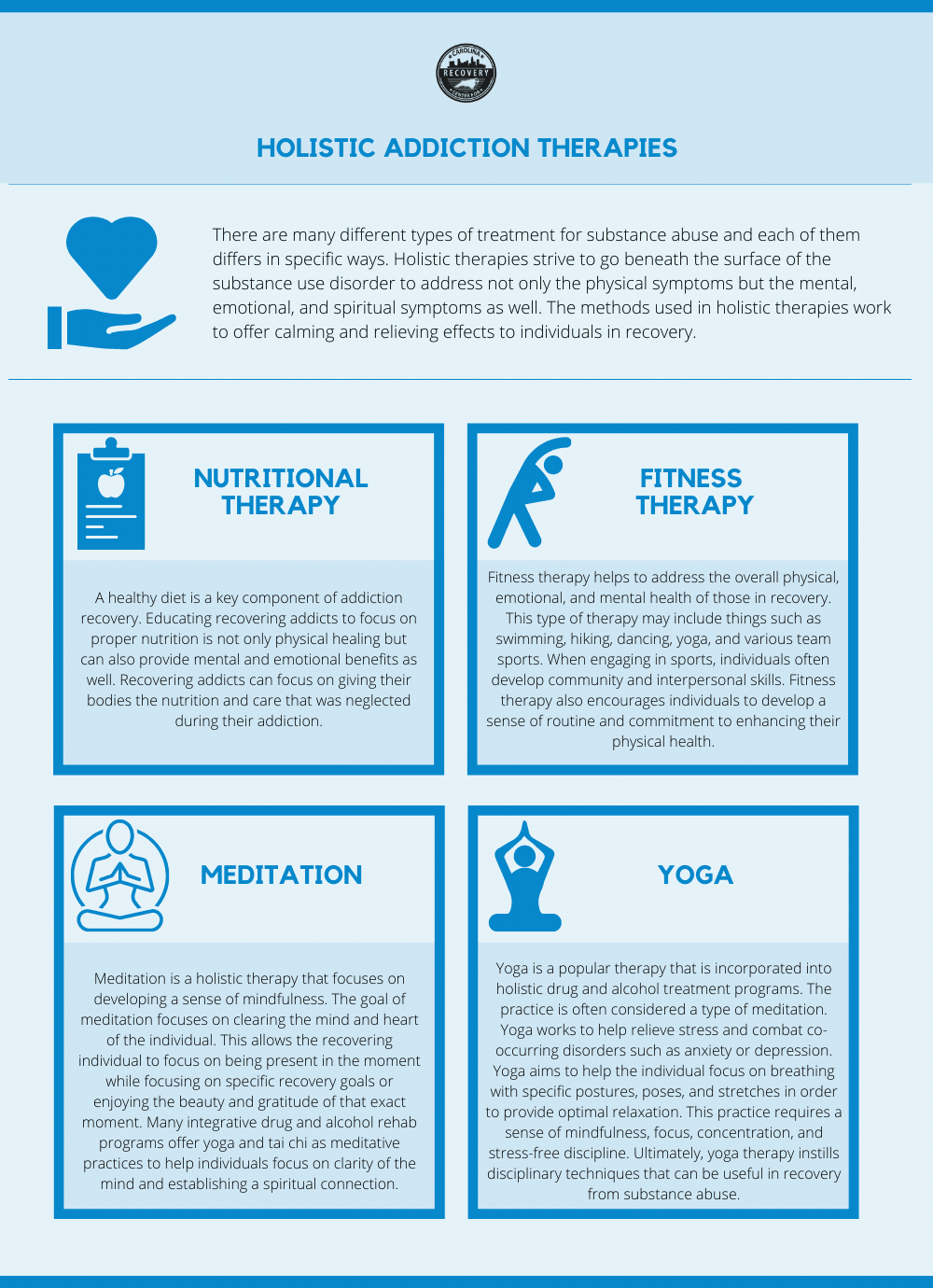 There are many different types of treatment for substance abuse and each of them differs in specific ways. Holistic therapies strive to go beneath the surface of the substance use disorder to address not only the physical symptoms but the mental, emotional, and spiritual symptoms as well. The methods used in holistic therapies work to offer calming and relieving effects to individuals in recovery. These specific methods can help individuals develop healthy coping mechanisms and, in turn, maintain long-term sobriety.
Nutritional Therapy
A healthy diet is a key component of addiction recovery. Educating recovering addicts to focus on proper nutrition is not only physical healing but can also provide mental and emotional benefits as well. Recovering addicts can focus on giving their bodies the nutrition and care that was neglected during their addiction.
Fitness Therapy
Fitness therapy helps to address the overall physical, emotional, and mental health of those in recovery. This type of therapy may include things such as swimming, hiking, dancing, yoga, and various team sports. When engaging in sports, individuals often develop community and interpersonal skills. Fitness therapy also encourages individuals to develop a sense of routine and commitment to enhancing their physical health.
Meditation
Meditation is a holistic therapy that focuses on developing a sense of mindfulness. The goal of meditation focuses on clearing the mind and heart of the individual. This allows the recovering individual to focus on being present in the moment while focusing on specific recovery goals or enjoying the beauty and gratitude of that exact moment. Many integrative drug and alcohol rehab programs offer yoga and tai chi as meditative practices to help individuals focus on clarity of the mind and establishing a spiritual connection.
Yoga
Yoga is a popular therapy that is incorporated into holistic drug and alcohol treatment programs. The practice is often considered a type of meditation. Yoga works to help relieve stress and combat co-occurring disorders such as anxiety or depression. Yoga aims to help the individual focus on breathing with specific postures, poses, and stretches in order to provide optimal relaxation. This practice requires a sense of mindfulness, focus, concentration, and stress-free discipline. Ultimately, yoga therapy instills disciplinary techniques that can be useful in recovery from substance abuse.
Finding a Holistic Therapy Center for Addiction Treatment in North Carolina
Many drug and alcohol rehab programs in North Carolina offer holistic therapy as a component of their inpatient and outpatient treatment programs. Carolina Center for Recovery offers individualized treatment in an intimate setting in Charlotte, North Carolina. The team at Carolina Center for Recovery is comprised of doctors, clinicians, therapists, mentors, and recovery coaches with decades of experience in the addiction field. We take a holistic approach to treating addiction, offering a variety of treatment modalities centered around identifying and resolving underlying issues associated with addiction. Each client enrolled at Carolina Center for Recovery will receive an individualized treatment plan as well as exposure to a multitude of traditional and holistic therapies. 
Carolina Center for Recovery is family owned and operated. Our compassionate staff exists to give individuals and their loved ones individualized care to recover from substance abuse through education, therapy, and an overall holistic approach to treating addiction.
Medically Reviewed: January 10, 2020
Medical Reviewer
Chief Editor
About
All of the information on this page has been reviewed and verified by a certified addiction professional.
Dr Ashley Murray obtained her MBBCh Cum Laude in 2016. She currently practices in the public domain in South Africa. She has an interest in medical writing and has a keen interest in evidence-based medicine.
All of the information on this page has been reviewed and verified by a certified addiction professional.