What to Look For in a Sober Living Home Near You
Choosing to go to sober living after rehab is an important decision to make. Sober living homes, also referred to as transitional housing or halfway houses, provide a clean-living residence for people in early recovery. Many people choose to live at a sober home after treatment because it makes for an easier transition between a structured addiction treatment center and a return to everyday life. Others do so because they require ongoing care and don't have a supportive home environment. However, all sober homes in North Carolina are different, so it's important to know what to look for when choosing a sober living home near you.
Why Go To Sober Living?
Whether you have just completed detox and need extra support or you are getting ready to leave a structured residential environment, going to sober living can assist with your transition and help you stay sober. While living in a sober home in North Carolina, you will live among other sober people just like you. The house will have some basic rules, but you will have more freedom and autonomy than you previously did in treatment.
Most sober homes in North Carolina have a live-in house manager who keeps tabs on house members and facilitates weekly meetings. Residents are generally expected to keep the premises clean, support one another in recovery, and maintain total abstinence.
Overall, people who go to sober living homes as a part of their treatment plan are more likely to have an easier time obtaining and maintaining employment, staying sober from drugs and alcohol, avoiding involvement in illegal activity, and dealing with their mental health.[1] That being said, not all sober homes are the same. If you're considering going to a sober living home near you, you will want to know which questions to ask and which red flags to avoid.
Questions to Ask When Looking For a Sober Living Home Near You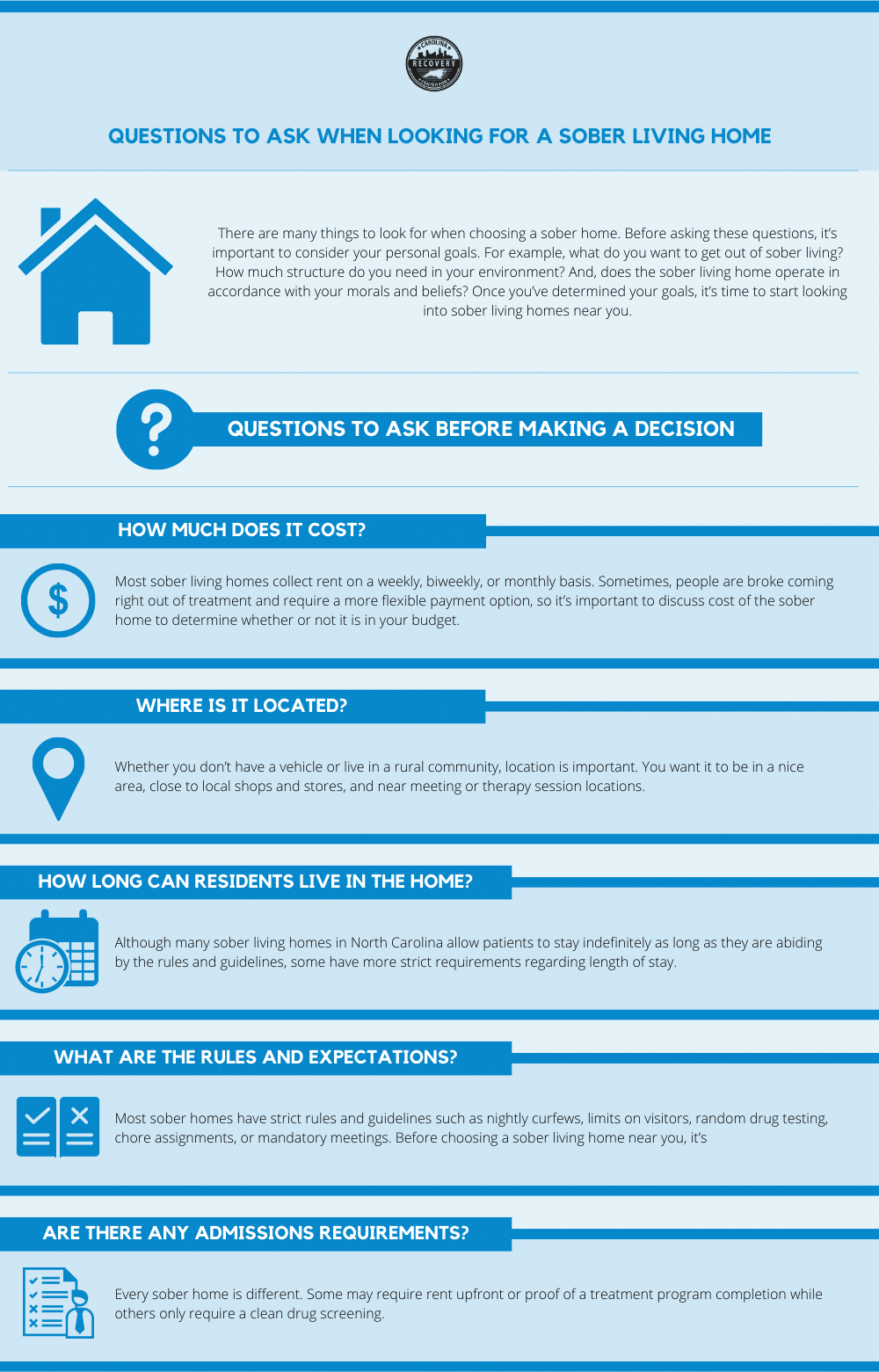 There are many things to look for when choosing a sober home. Before asking these questions, it's important to consider your personal goals. For example, what do you want to get out of sober living? How much structure do you need in your environment? And, does the sober living home operate in accordance with your morals and beliefs? Once you've determined your goals, it's time to start looking into sober living homes near you. Here are some questions to ask before making a decision.
How much does it cost? – Most sober living homes collect rent on a weekly, biweekly, or monthly basis. Sometimes, people are broke coming right out of treatment and require a more flexible payment option, so it's important to discuss cost of the sober home to determine whether or not it is in your budget.
Where is it located? – Whether you don't have a vehicle or live in a rural community, location is important. You want it to be in a nice area, close to local shops and stores, and near meeting or therapy session locations.
How long can residents live in the home? – Although many sober living homes in North Carolina allow patients to stay indefinitely as long as they are abiding by the rules and guidelines, some have more strict requirements regarding length of stay.
What are the rules and expectations? – Most sober homes have strict rules and guidelines such as nightly curfews, limits on visitors, random drug testing, chore assignments, or mandatory meetings. Before choosing a sober living home near you, it's important to learn what will be expected of you and the other house members.
Are there any admissions requirements? – Every sober home is different. Some may require rent upfront or proof of a treatment program completion while others only require a clean drug screening.
Red Flags To Avoid When Choosing a Sober Home
Upon asking the previous questions, touring the sober home, and looking into online reviews, you will learn a lot about the sober homes you are looking at. It's important to keep in mind sober homes that are poorly run are dangerous to one's recovery and wellbeing. As a result, it is vital to keep in mind the following red flags when choosing a sober living home near you.
If the sober home claims to be free of charge or will pay you to stay there, it may be a scam or sign of fraud.
The house has no rules, curfews, live-in house manager, or trained and employed staff.
Rundown buildings or unsafe electrical setups are a sign that the house is not managed properly.
The sober home does not submit to regulatory inspections or general safety provisions
The sober home does not require residents to be sober or adhere to random drug testing.
If you notice any of these red flags, you should consider another sober home or speak with an addiction specialist near you regarding your specific needs.
Find a Sober Home in North Carolina Today
Choosing a sober living home isn't easy because there are a lot of factors to consider. At Carolina Center for Recovery, we are family owned and operated, so we know how important it is that family members feel confident in their decision of sending a loved one to sober living. If you or a loved one is seeking treatment or assistance with your recovery, reach out to us today. Our dedicated addiction specialists will take the time to assess your needs and place you in a treatment program or sober living home that will set you up for success. Call us now.
References: